Some of the biggest issues facing Atlanta today concern inequality, gentrification, and urban development, and the controversy around the Atlanta Beltline embodies many of these debates.
Although the Beltline has brought new opportunities for recreation and business to many of the neighborhoods intersected by the twenty-two mile long corridor, property values around it have also increased rapidly, leading to displacement and loss of residents and community culture.1 Currently, attention on the Beltline's impact has centered on the Eastside Trail. Meanwhile, the Westside Trail intersects with a variety of historically middle and working class black communities on the Westside, including Grove Park. Paired with the developments of the Proctor Creek Greenway and Westside Reservoir Park at Bellwood Quarry, the Westside Trail will no doubt bring dramatic changes to the area. To date, politicians and the media have largely concentrated on how experts view these changes2; however, I hoped to see more coverage of how local residents view these changes, particularly long-term residents, because they bring important local knowledge to the conversation.3
Given the importance of neighborhood change in urban sociology, I thought that student interviews of residents in Grove Park would be the perfect way to bring life to these discussions about gentrification and urban renewal. In my two Urban Sociology courses in 2018, I thus partnered with the Grove Park Foundation4 and the Serve-Learn-Sustain Program at Georgia Tech to have students interview residents of Grove Park about changes in their neighborhood. These oral histories are part of the foundation's ongoing project to preserve important stories and histories of current and former Grove Park residents. Currently, my students have conducted twelve interviews of fourteen different residents about changes in their neighborhood, as well as their hopes and concerns about the future of Grove Park, producing over ten hours of audio and over one hundred pages of text in the process. We then uploaded the interviews to the StoryCorps App, which is modeled after the Works Progress Administrations efforts to maintain oral histories during the Great Depression, in order to archive them online as a public record of residents' views. With the permission of the interviewees, these interviews are also archived at the American Folklife Center at the Library of Congress for future generations to hear. This project also gives voice to the residents and provides a record of their wants and concerns that is available to be used by the neighborhood association.
Before conducting the oral histories, the students first conducted mock interviews with one another about their own neighborhoods, which provided them with the experiences of interviewing and being interviewed. Students were asked to critically reflect upon some of the ethical issues associated with interviews, as well as how their own social statuses may shape their interactions with the interviewees. Accordingly, each student completed IRB training, which further emphasized the ethical stakes involved in oral histories. Before interviewing residents of Grove Park, students also went on a walking or bus tour of the neighborhood led by the Grove Park Foundation, which focused on the neighborhood's history, the current issues that it faces, and planned future developments. Finally, the students discussed the Atlanta Neighborhood Planning Unit (NPU) system with Al Bartell, the chairperson of NPU-J, which includes Grove Park.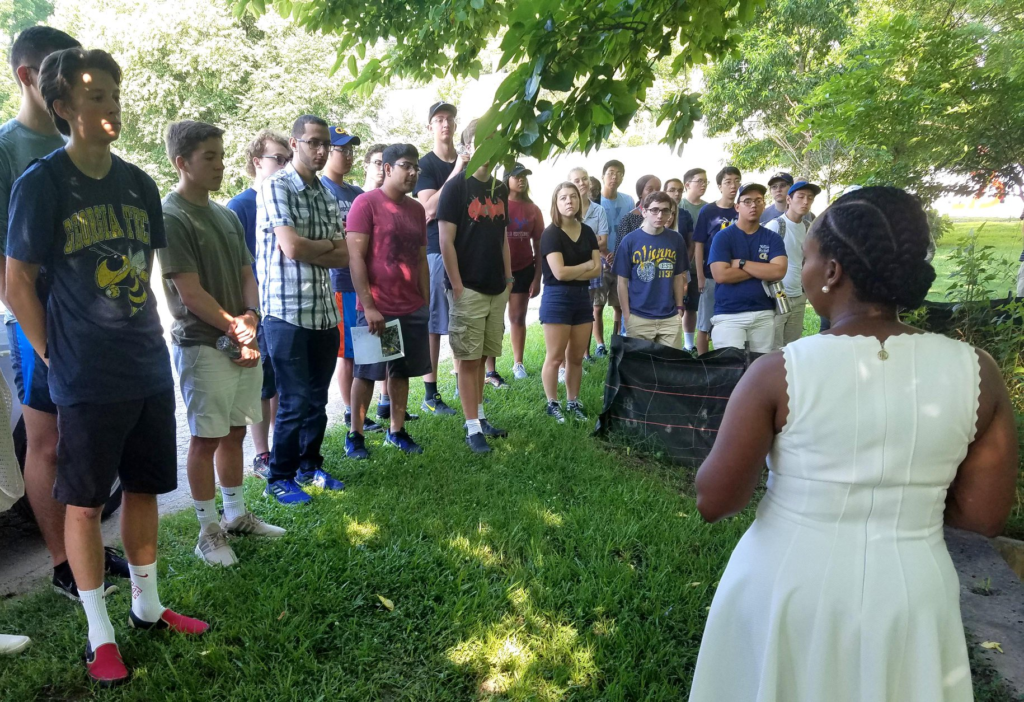 Giving Voice to the Residents of Grove Park
As is the case for many neighborhoods on the Westside, white flight and the subsequent flight of the black middle class5 has led to major demographic shifts in Grove Park over the past few decades, which also contributed to population and business loss. Today, Grove Park has no grocery store (making it a food desert), pharmacy, or bank.6 Thus, ongoing investments in the neighborhood have some very excited for a revival of social and economic life in Grove Park. However, others are concerned about how these investments will affect the neighborhood, particularly in relation to the costs of rent, the community culture, and displacement of low income and elderly residents. Given that the changes in Grove Park are currently in a relatively early phase compared to other neighborhoods like Old Fourth Ward, I was particularly interested in assessing and understanding how current residents' views of the prospects of urban renewal and gentrification in Grove Park might vary. While we have not reached any definite or generalizable conclusions about how residents of Grove Park view current and future changes –we have only spoken to twelve of the nearly 5,000–6,000 residents, and our sample was non-random with residents identified for interviewing by the Grove Park Foundation – we nonetheless noticed several patterns among the residents' views that are worth highlighting. Overall, residents seem to be excited for change; however, they hope that investors, new residents, and local government remember the wants and needs of the current residents as opposed to future residents of a completely different demographic.
One group that we really wanted to speak to were "legacy residents" who have lived in the neighborhood since the 1960s, which corresponds to the period when the neighborhood was still transitioning from majority white to majority black. Having seen dramatic changes in their community over the decades, legacy residents expressed a strong nostalgia as well as a sense of "community loss," or disruption between the bonds between individual neighbors and the neighborhood as a whole. Mrs. Johnson, an African American woman who moved to Grove Park in the 1960s, recollects what the neighborhood was like when she first moved in:7
Each of the legacy residents that we interviewed brought up similar hopes about the future of Grove Park: they hoped that new investments in the community would bring back the close-knit, family friendly community that existed before white and middle class flight.
Residents were also excited about the prospect of new businesses and amenities. They especially want to see opportunities for local small businesses and entrepreneurs instead of outside corporations gaining access to the economic opportunities in Grove Park. Torrie, an African American resident of Grove Park since 2005, captures these views in this quote:8
But residents also expressed concern about potential displacement, particularly among low-income residents and seniors. However, they were hopeful that displacement would not be severe because of the pledges by investors to build affordable housing units and promises of the city to provide property tax relief to homeowners who have lived in the neighborhood for years.9 In the following passage Darryl, an African American legacy resident who also moved to Grove Park in the 1960s, captures this duality:10
Several of the residents admitted that some displacement would occur, regardless of the measures taken place to reduce it, though. As the neighborhood becomes more desirable, increased demand for properties will typically drive up housing prices, thus pricing out some residents.
Finally, from our interviews it was clear that race and class remain lingering issues in Grove Park, particularly given the recent influx of middle class families who are often (but not always) white. However, the residents that we spoke to expressed a desire for the neighborhood to be diverse and not homogenously white or black. Regardless, residents expressed a desire for prospective residents to respect the existing community culture. Torrie summarizes this sentiment below:11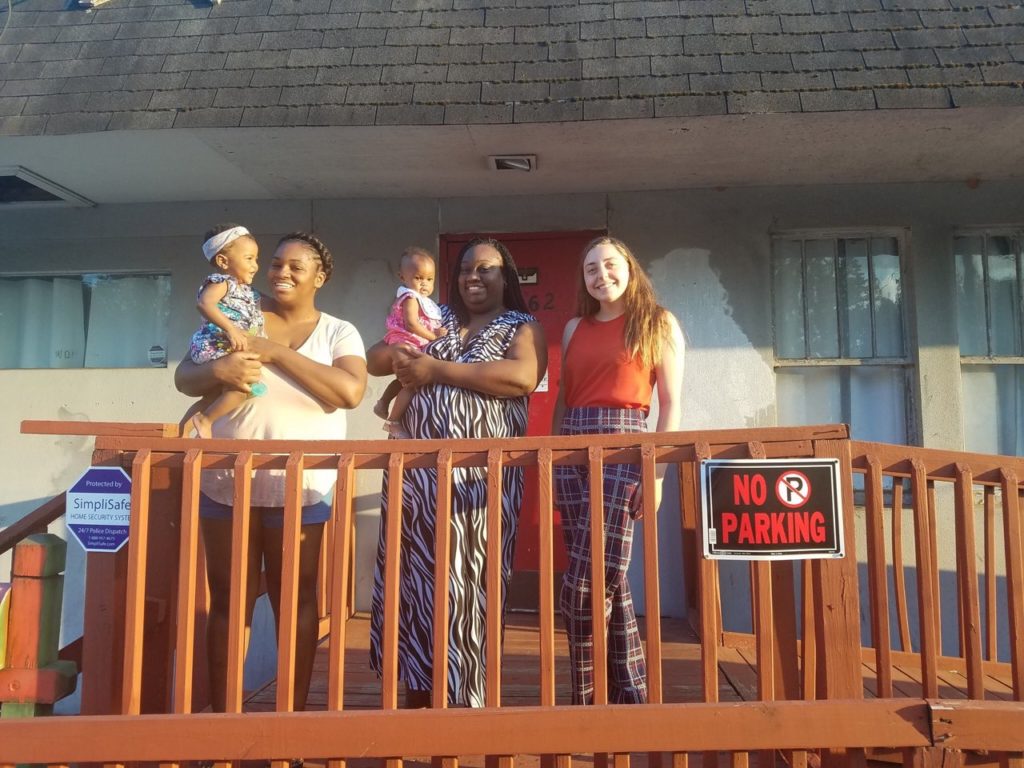 Conclusions
Through this project, my students and I learned quite a bit about the history of and contemporary issues facing Grove Park, particularly in relation to urban revitalization and gentrification. It is one thing to read about gentrification, but speaking to residents who face these issues in their everyday lives provides new light to our understandings. We also learned how to be better neighbors to the neighborhoods that border Georgia Tech reaching out to folks who live in their communities to better understand their wants and needs and respecting the importance of local knowledge, which is often overlooked. I also hope that the students understand that the communities where they live, work, and play have complex histories and that the decisions that they make and actions that they take will often create unintended and unequal consequences for these communities. We hope that the interviews might also be used by NPU-J and the Grove Park neighborhood to lobby for additional resources that meet the wants and needs of current residents. Finally, community leaders and residents like LaTonya Gates-Boston, the founder of PAWkids, reminded us to remember the people who are already living in the neighborhood: the youth, the pastors, the elderly, the aspiring entrepreneurs, and the person on the corner. They all want to be part of its future too.
---
Citation: Hyde, Allen. "Don't Forget about the People Who Are Already Here: Teaching Urban Sociology through Oral Histories in Grove Park." Atlanta Studies. March 26, 2019. https://doi.org/10.18737/atls20190326.
---
Notes