When Karen Handel won the election to represent the sixth district, she notably became the first Republican woman to represent Georgia in Washington.
Yet, like all the Republican men before her, she succeeded because of generations of conservative women's work building the GOP in the state.1 Despite its current status as a Republican stronghold, Georgia was a part of the Solid South of Democratic control from the post-Reconstruction era through the Civil Rights Massive Resistance era of the 1950s. But as the Republican Party became associated with resistance to federal intervention, especially in civil rights, the South began to open up to a two party system. While men held the major posts in party leadership, it was women's work, which included the unpaid grassroots work of phone banking, voter registration, and get out the vote organization, which would prove crucial to the rise of the Georgia GOP.
Victory Girls: The 1960s
In 1964, Bo Callaway became the first Georgia Republican since Reconstruction to go to Congress when the voters of the third district elected him. It is easy to think he rode presidential candidate Barry Goldwater's anti-civil rights coattails to Washington, but that does not explain why Callaway won and the other four Republicans running for Congress in Georgia that year lost. To fully understand Callaway's victory we have to explore the role women played in Georgia politics, providing the support and structure that ultimately made the party viable. As Lee Ague, founder of the Cobb County Federation of Republican Women in 1963, told everyone she met: "Women are the backbone of the Republican Party."2Callaway's success was specifically bolstered by a group of women called the Victory Girls.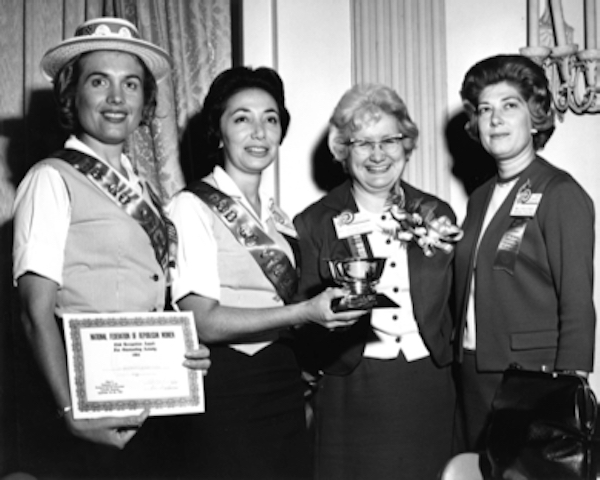 These women, dressed in handmade navy blue skirts and blue and white striped vests, volunteered from the growing ranks of the Georgia Federation of Republican Women (GFRW). They registered new voters and educated existing voters. They baked for Barry (Goldwater) and for Bo (Callaway), donating proceeds to grassroots campaign work. If Goldwater had coattails to ride, it was because these women made them. Most importantly to Callaway's victory, the women maintained the polling data. The small GOP in 1964 Georgia didn't have the money for professional polls, especially at the precinct levels. To compensate for this problem, Ague trained women to go door-to-door, registering voters and collecting voter data. As Ague explained to a group of men, "As a gossipy, phone-happy, coffee drinking lot, [women] are innately better equipped to spread the 'good word' more abundantly."3 Under her watch, such once negative female stereotypes were reconceived as political advantages. By Election Day, Ague, and by association Callaway's campaign, thus knew where every likely Republican voter in the precinct lived. If someone had not voted by 4pm, volunteers showed up at their door, offering babysitting and a ride to the polls.4
Meanwhile, in Georgia's ninth district, Republican candidate Jack King did not fare as well. Newt Gingrich, King's campaign advisor, refused the polling assistance of the women because he did not trust their numbers. When results came in on election night, Ague's numbers from the Goldwater campaign had rightly projected King's loss. Had his campaign trusted women's numbers, they may have been able to make a final push to the likeliest GOP voters.When Bo Callaway left Congress to run for governor in 1966, he again called on Ague to run the women's campaign. Winning a district was hard enough, but this was the first serious statewide race for a Republican since Reconstruction. Again, the Georgia GOP did not have enough funds for professional pollsters, but Ague had enough volunteers she could train. The "Go Bo" girls conducted fourteen weekly polls in each of the state's ten districts. Ague boasted her troops had donated "over 15,000 woman hours," equal to more than $60,000.5 Again, the women's polling numbers were the most accurate. They rightly predicted that none of the candidates – Republican Bo Callaway, Democrat Lester Maddox, nor independent Ellis Arnall – would win a clear majority. When the vote went to the Democratically-controlled state legislature, Lester Maddox won.6Beyond campaign work, women also made voters of Georgia at home with the Republican Party. In a South of Democratic control, Republican women had to convince voters that the GOP was a viable option, not a wasted vote. The GFRW's signature program to accomplish this was the "Two Party Tea Party." In Georgia where the Democratic primary had long been the only election that mattered, voters needed an introduction to a two party system. Women became men's gateway into the Republican Party. Attendees left a Two Party Tea Party with GOP literature and the suggestion to include the need for a two party system in the dinner conversation that evening. Men often had business or political ties to the Georgia Democrats and could not break for fear of loss of position or contracts. A state senator from Columbus vowed his support for the Democratic Party before praising his wife for having a mind of her own, then listing all her reasons for supporting Callaway.7
These Two Party Tea Parties promoted choice in Georgia politics. Republicans argued that Democrats should have to work for Georgians' votes. As the national Democratic party embraced civil rights legislation, southern Democrats were ready to leave. The New Right developed out of the meeting of southern conservatism and the national GOP. Women's work helped the South take the first steps into a two-party system.
From Victory Girls to Election Victory
Though the men of the Georgia GOP might have valued women's volunteer hours, they did not welcome women on the ballot until recently.The first Georgia woman to try to run for Congress on the GOP ticket was Iris Blitch from South Georgia. She had served as a Democrat in the US Congress from 1955–63, but like some other southern legislators, most famously South Carolina Senator Strom Thurmond, Blitch switched parties in 1964. She wanted to run again for her seat on the GOP ticket, but the male district leadership decided to focus on gathering Goldwater votes rather than work for votes for a party-switcher.While women have long invested in the GOP, the party has not often returned the favor. Democratic women seeking office have had the resources of EMILY's List providing training and funds since 1985. Meanwhile, the organizational equivalent for Republican women, Maggie's List, only started in 2010. Handel is a first from Georgia, and she pulls the number of GOP women in the House up to just twenty-two, compared to the sixty-two Democratic congresswomen.Research shows that women often don't run until someone suggests the idea to them.8
In the notorious old boys' culture of Georgia, that has been too rare. For example, no one asked Lee Ague to run, even though she won national GOP awards for helping get men from Bo Callaway to Ronald Reagan elected. And on the state level, Renee Unterman was the lone Republican woman in the state senate until Kay Kirkpatrick won the seat for the thirty-second district in a special election this spring. Notably, a Republican colleague suggested that Kirkpatrick run.9After losing a gubernatorial primary in 2010 and the US Senate primary in 2014, Handel was not likely to be asked to run in the sixth district special election. In choosing to run anyhow, perhaps she represents another new era for Republican women in Georgia – winning without first getting permission to do so. Women's work is still the backbone of any party, but now Republican women are finding they may just be the head as well.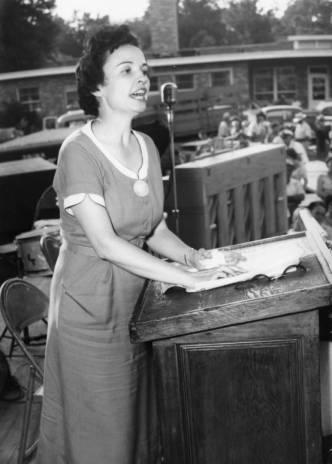 ---
Citation: Morris, Robin. "Women are the Backbone of Georgia's Republican Party." Atlanta Studies. August 08, 2017. https://doi.org/10.18737/atls20170808.
---
Notes