As a part of the AUC Woodruff Library Archives Research Center's initiative to process collections of underrepresented groups, such as African American women, we are excited to announce that the Grace Towns Hamilton papers are now open for research.
The first African American woman elected to the Georgia General Assembly, Grace Towns Hamilton grew up in downtown Atlanta, in the heart of the Vine City area. She lived and went to school at Atlanta University, where she later taught psychology, and even married her husband in the Ware Memorial Chapel on Atlanta University's Campus. During her tenure as the first African American woman in the Georgia House of Representatives, Hamilton worked to create opportunities and fair political representation for African Americans across the state. Eventually, Hamilton even became known to her colleagues and peers as "'the most effective woman legislator the state has ever had.'"1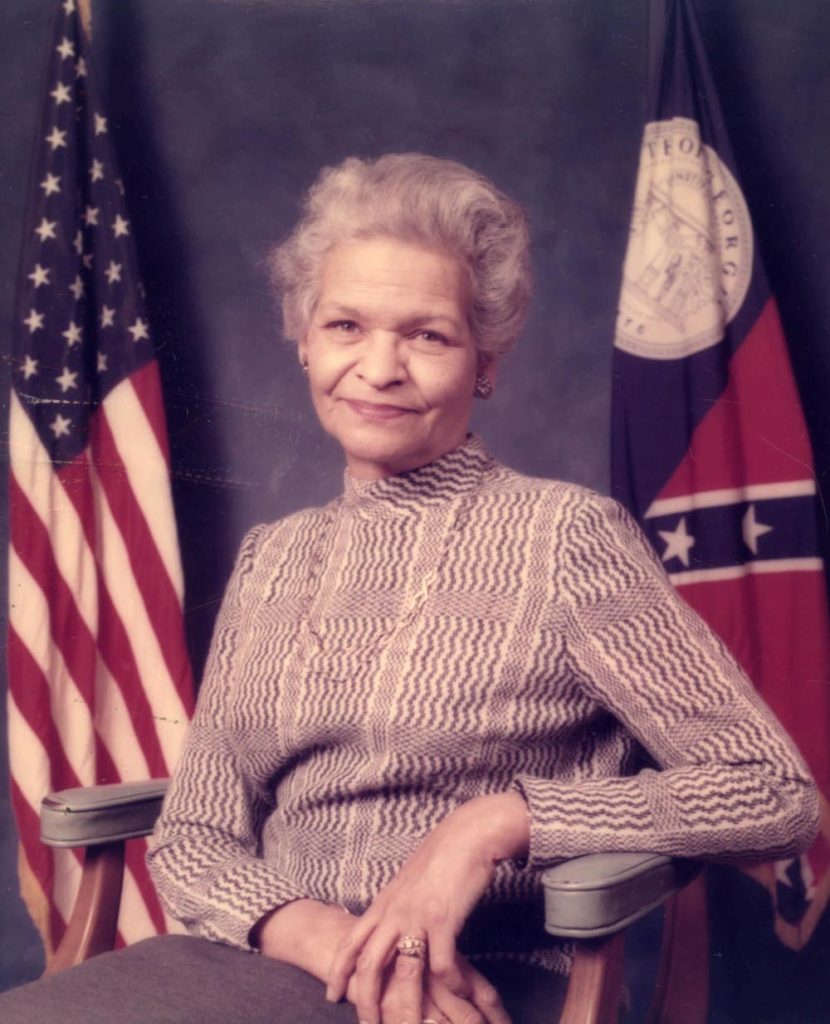 The Grace Towns Hamilton papers include significant items from her legislative career, many of which speak to the changing political landscape of Atlanta, Georgia between the 1960s through 1980s. Significant topics of the collection include African American women politicians and civic leaders, Georgia politics, and Atlanta, GA. The materials in the collection complement other holdings of the Archives Research Center on similar topics, such as the George A. Towns collection, the Atlanta Urban League papers, and the Voter Education Project organizational records.
Grace Towns Hamilton's Life and Career
Hamilton was born on February 10, 1907, in Atlanta, Georgia, to George Alexander Towns and Nellie McNair Towns. Her father worked as a professor at Atlanta University (now Clark Atlanta University), where she would earn a bachelor of arts in 1927, before receiving a master's degree in psychology from Ohio State University in 1929. Hamilton returned to Atlanta after receiving her master's and taught psychology at Clark College and the Atlanta School of Social Work.2 On June 7, 1930 Hamilton married Henry Cooke Hamilton and the couple moved to Memphis, Tennessee, where their daughter, Eleanor Hamilton Payne, was born in 1931.
After returning to Atlanta in 1941, Hamilton served as Executive Director of the Atlanta Urban League (AUL) from 1943 to 1960. While there, she worked within the confines of segregation to improve specific areas of African American lives, such as schooling, health care, and voting rights. Additionally, she served on boards for the Southern Regional Council, Meharry Medical College, and Atlanta University, as well as the Governor's Commission on the Status of Women.
As a result of a 1962 Supreme Court decision that "increased the power of urban areas and created the dramatic growth of black registered voters in the city,"3 the Georgia General Assembly reapportioned the Georgia House of Representatives. This reapportionment added twenty-one seats in Fulton County and resulted in a special election in 1965, which Hamilton entered. Grace Towns Hamilton was elected the first African American woman to serve as a state representative in the Georgia General Assembly. She was one of eight African Americans elected in the special election, including former Student Nonviolent Coordinating Committee leader Julian Bond.
During her tenure in the Georgia House of Representatives, Hamilton represented the majority black neighborhood of Vine City in Atlanta. Her life experience there, coupled with her career in education and psychology, made Hamilton an ideal candidate to represent the area in the Georgia House of Representatives. During her close to twenty years in office, she served on various committees, including the Reapportionment Committee and the Appropriations Committee, and sponsored numerous bills in an effort to expand Black leadership and political representation in city, county, and state governments. Notably, Hamilton was a principal architect for the 1973 Atlanta City Charter, which finally allowed African Americans to be elected to the Atlanta City Council in numbers proportionate to their part of the city's population. Moreover, she played an important role in district reapportionment and Black voter registration efforts, which also helped increase Black representation in Georgia.4 Notably, Hamilton served as the chair of the subcommittee for the reapportionment of the 5th and 6th Congressional districts of Georgia and led the battle that "placed most Atlanta Blacks in the 5th Congressional district." As a result of her efforts, Andrew Young became the first Black US Congressman from the new 5th District, and the first African American from Georgia to be elected to Congress since Reconstruction. After his historic win, Young credited Hamilton for making it possible.5 After losing reelection in 1984 to Mable Thomas, Hamilton served as an advisor to the United States Civil Rights Commission from 1985 to 1987 before she passed in June of 1992.6
The Grace Towns Hamilton Collection
The Grace Towns Hamilton papers consist of materials related to the life and career of Hamilton. Though the collection spans the years from 1900 to 1992, the bulk of it dates from 1950 to 1985. A significant portion of the collection contains materials related to her time in the Georgia House of Representatives, including copies of bills she sponsored, such as H.B. 1180, an abortion bill that would have allowed abortions within the first twelve weeks of pregnancy, and the Georgia Fair Employment Practices Act, as well as legislative and committee materials from the Atlanta Charter Commission, the Appropriations Committee, and the Citizens' Advisory Council on Environmental Quality.7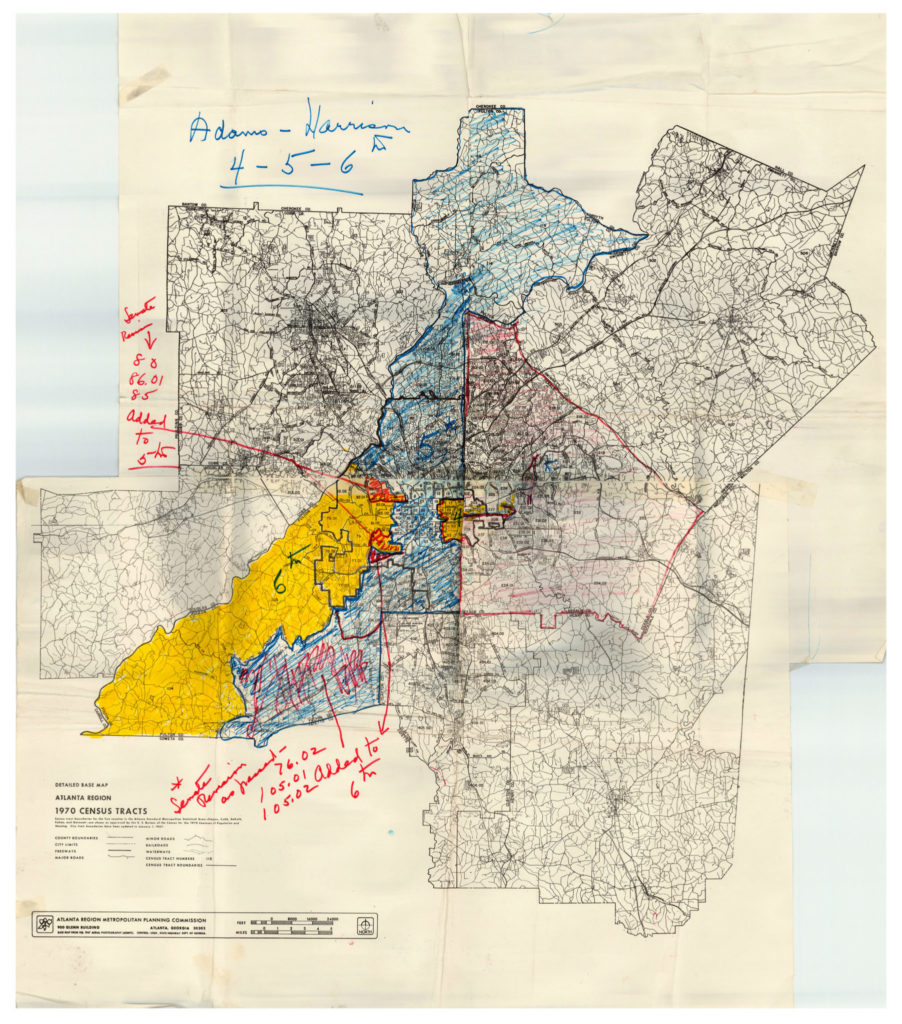 Additionally, the collection contains maps from Grace Towns Hamilton's work on the Reapportionment Committee of the Georgia General Assembly. In collaboration with the Clark Atlanta University Geographical Information Systems lab, over 170 of these maps have been digitized and will be made available to the public for online research. They include maps of Atlanta, Georgia, Congressional districts, Atlanta neighborhood development, Georgia Congressional districts, Fulton County election precincts, and others from the 1960s through 1980s. Many of the maps include notes and drawings done by Hamilton herself.
The collection also features personal as well as professional items including materials from her father, George A. Towns, as well as correspondence with various individuals including her family members, but also W. E. B. Du Bois, Jimmy Carter, and others. The collection also contains photographs of Grace Towns Hamilton, her family, friends, colleagues, and various other individuals and groups, including photographs of her with W.E.B. DuBois, Hale Woodruff, Langston Hughes, and Jimmy Carter.
The Opening of the Collection
To celebrate the official opening of the collection, the Archives Research Center hosted an event "African American Women in Politics," which included a special viewing of materials and a conversation with Georgia State Representative Park Cannon of the Old Fourth Ward and Dr. Teri Platt, Clark Atlanta University associate professor of political science. Cannon and Platt discussed working with non-profits, shared their experiences volunteering as students, offered advice for young people interested in public office, and described their interactions with colleagues. It was an open and frank discussion, where students were encouraged to engage with women in politics and ask hard questions about representation in government. Ultimately, the event not only showcased the collection but connected the experiences of Black women in politics today with the Grace Towns Hamilton papers and Hamilton's legislative career. The Archives Research Center plans to celebrate other collection openings in the future through similar programming, bringing in speakers, scholars, and researchers who can make relevant connections between real-world issues and archival collections.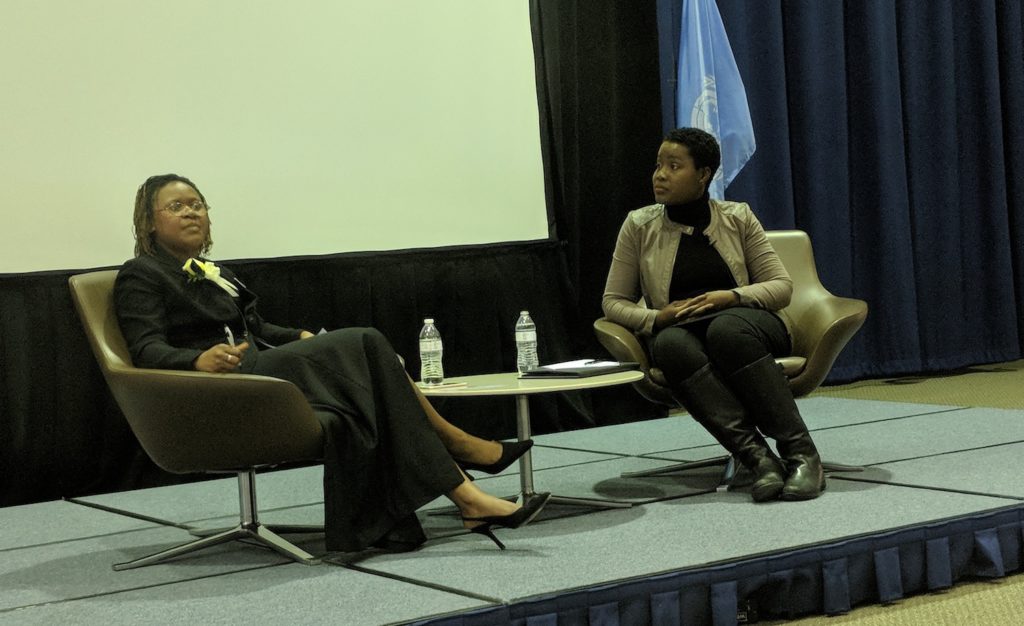 ---
Citation: Newberry, Brittany. "Black Women Politicians in the Archives." Atlanta Studies. May 22, 2018. https://doi.org/10.18737/atls20180522.
---
Notes