The Auburn Avenue Research Library houses the collections of many black Atlantans who have left behind legacies of excellence and dedication to their communities including Mayor Andrew Young and City Councilman Hosea Williams.
Now the library houses the collection of one more notable Atlantan: Dr. Robert A. Holmes. A contemporary and friend of more widely known figures like Young and Major Maynard Jackson, Holmes had a long and illustrious career as a professor at Clark Atlanta University, as a legislator in the Georgia House of Representatives, and as a local businessman. The bulk of this collection spans from 1970 to 2012, though there are pieces from as early as 1916 and as recent as 2018. The collection includes correspondence, press releases, campaign materials, published and unpublished works, writings, photographs, audiovisual materials, and over 150 volumes from Holmes's personal library. Taken together, these diverse items help to paint a picture of his remarkable life as a legislator, educator, and influential Atlantan.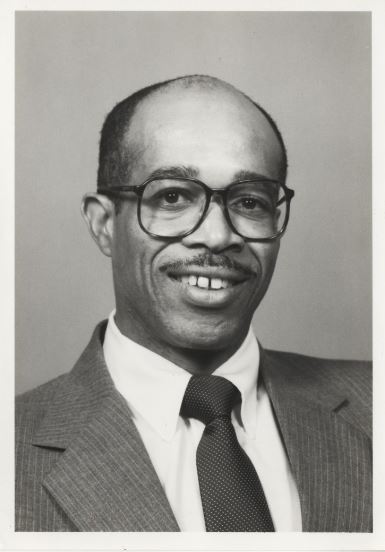 Holmes was born in Harlem, New York, where he was raised by his mother Priscilla Holmes. He admitted to heading down a self-destructive path until he was sent to live with his great aunt in West Virginia. Holmes was among the first black students to integrate Shepherdstown High School there in 1957. After earning his undergraduate degree from nearby Shepherd College, he moved back to New York where he earned his PhD in political science from Columbia University. Holmes's educational career eventually led him to Atlanta in 1971 where he served as professor of political science at Atlanta (now Clark Atlanta) University and helped establish a political science doctoral program there. He would later serve as director of the Southern Center for Studies in Public Policy before finally retiring from Clark Atlanta in 2005.
Holmes's academic writings and publications form a sizable part of the collection. Included are a number of academic journals that Holmes wrote articles for, including publications he edited, such as the Clark Atlanta publication Status of Black Atlanta (1993-2005) and Georgia Legislative Review (1991-2004). Holmes' most ambitious works are his two published books: Maynard Jackson: A Biography (2009) and From Poverty to History Maker: An Autobiography (2014) and the collection includes notes, hand-written and typed drafts, as well as research and interviews for both works. Researchers can find interviews Holmes conducted with Bunnie Jackson-Ransom and Maynard "Buzzy" Jackson III, among others, for his biography of Maynard Jackson.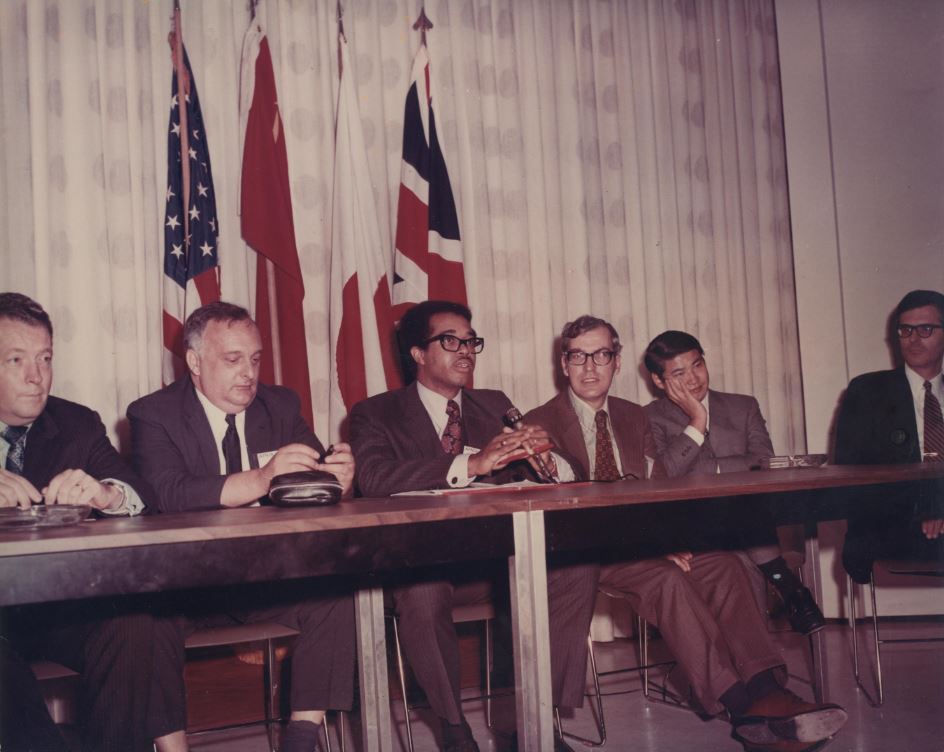 In addition to Holmes's long career as a scholar, his collection at the Auburn Avenue Research Library also testifies to his distinguished tenure as a state legislator. After having successfully helped his fraternity brother Maynard Jackson in his 1973 mayoral campaign, Holmes and a number of other Clark Atlanta staff who had helped in that campaign began running for public offices themselves. First elected to the Georgia House of Representatives in 1974, he served as a legislator for the next thirty-four years. While in the legislature he was a member of the appropriations committee, the first African American on the budget committee, and a founding member of the Georgia Legislative Black Caucus. The collection includes a great deal of materials from his time spent in the Georgia legislature, including an assortment of his campaign flyers and speeches. There's even a letter in the collection written to President George W. Bush where Holmes disparages his policies.
In addition to his political and educational careers, Holmes was engaged in a number of business endeavors, many of which are extensively documented in his collection through items such as order catalogues, business cards, and correspondence. Holmes was a co-founder and board member of Capitol City Bank, one of the largest black-owned banks in Atlanta, and co-owner of Dataware Zenith Corporation. Holmes also worked for National Popular Vote and served as the chair of the Fulton Dekalb Hospital Authority finance committee. In fact, it is documentation of Holmes' time on that latter committee makes up the largest part of the collection. Related materials include everything from emails to meeting minutes and span from 2003 to 2015.
Holmes also did a great deal of volunteer work; as such, his records are filled with plaques, awards, and letters of gratitude from those he helped. In particular he worked extensively with the Carrie-Steele Pitts Home and the Atlanta YMCA. Holmes also did a great deal of community work through his church, Cascade Methodist, and his fraternity, the Eta Lambda chapter of the Alpha Phi Alpha Fraternity Inc.
Holmes has made his mark on the black community and the community at large as a history maker. The Auburn Avenue Research Library looks forward to welcoming any patron that wishes to learn about that history by exploring his collection.
---
Citation: Barnes, Alana. "A Pioneering Black Political Scientist and Legislator: Introducing the Robert A. Holmes Collection at the Auburn Avenue Research Library." Atlanta Studies. July 16, 2019. https://doi.org/10.18737/20190716.
---