What if education could focus more on promoting genuine learning than on routine schooling per se?
What if our hometown city could complement conventional classrooms as a learning lab itself? What if we could hack how high school traditionally gets delivered to engage students more personally and deeply in pursuing their own pressing questions and interests? Questions like these prompted a groundswell of support to launch Lab Atlanta, starting in the 2017 spring semester.
Lab Atlanta is an innovative semester-long, honors-level academic program for high school sophomores from greater Atlanta, sponsored by The Lovett School, and committed to serving the city as a whole. It brings together a diverse, select group of public and independent school students to form an intimate learning community. Students apply to attend and, if accepted, leave their home school for one semester to enroll at Lab Atlanta. They then earn core academic credits in a diverse, inclusive environment that builds civic leadership, design, and innovation skills.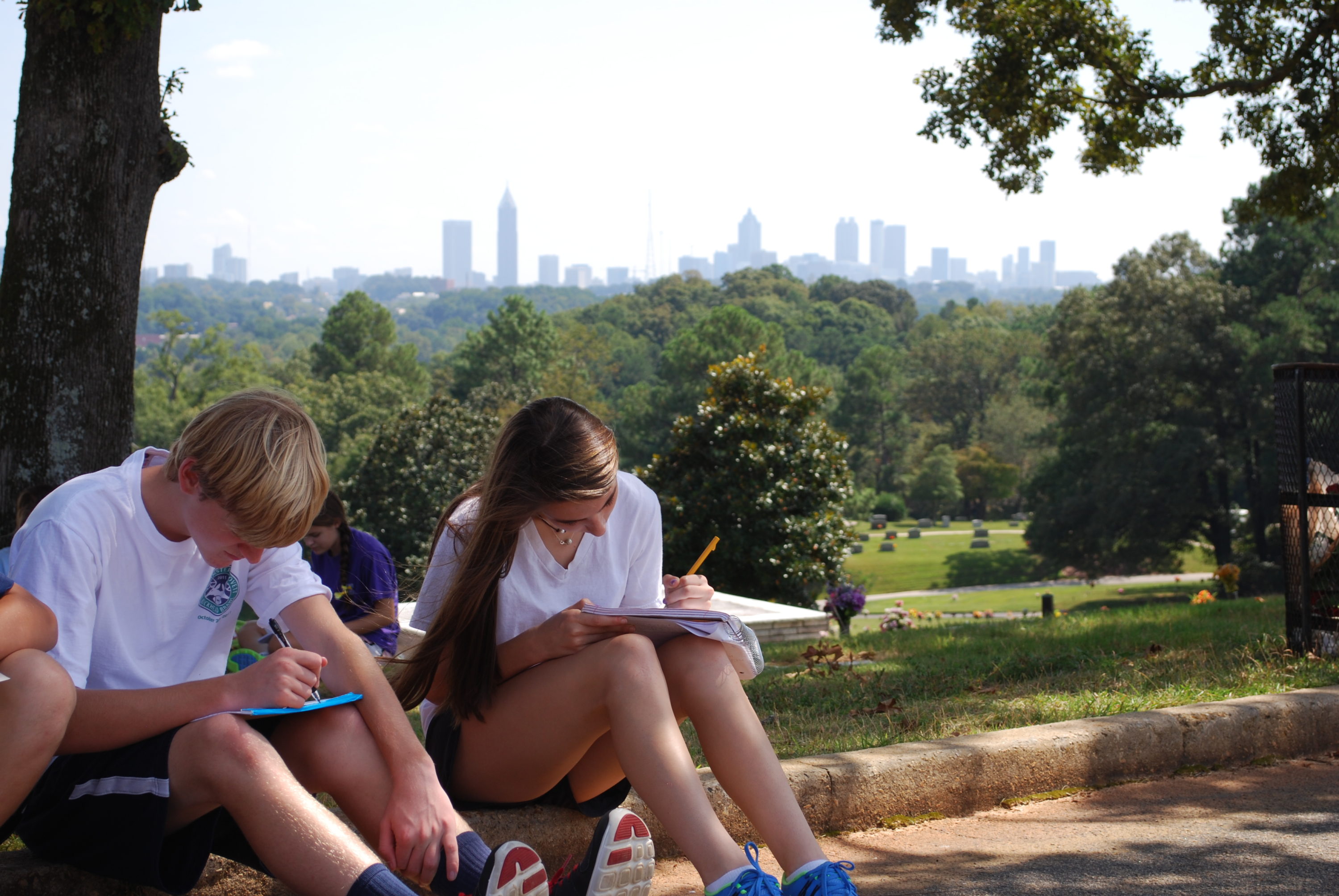 By diving deeply into Atlanta's pressing challenges and opportunities, Lab Atlanta students will develop through practical experience the skills and habits of leaders and innovators. They will choose local urban issues to examine about which they feel most passionate. These might include studying Atlanta's transportation challenges, addressing socio-economic inequities like food deserts or exploring the ramifications of gentrification in various intown neighborhoods, or considering whether high-tech engineering interventions might enhance the quality of life in our city. Lab Atlanta enables its students to build a systemic understanding of themselves, each other, and their home city.
We offer a learning experience that satisfies the requirements of a tenth grade academic semester through a transformational, transdisciplinary model focused on making learning "whole." Although we offer syllabi and assessments in six course areas and a school day from 9:00am to 4:00pm Monday through Friday, the likeness to a familiar school structure intentionally ends there. Lab Atlanta will develop civically engaged, design-minded leaders focused on building a vibrant, sustainable future for themselves and the city of Atlanta. In addition to the six disciplines, which provide the strong curricular foundation of our honors-level academic experience, we have designed the semester along a transdisciplinary arc, with the challenges of the city of Atlanta as the opportunity and trajectory for individual and collective student growth and development.
The transdisciplinary arc will follow the design cycle of Stanford University's Hasso Plattner Institute of Design, beginning with and continuously grounded in ongoing research (informed by the disciplines studied) to build empathy for and understanding of the city and its people. As this understanding grows, students will begin to work with specific people (either individuals or groups) and identify their needs. These needs will elicit student interest in humanities and/or STEM-oriented ideas, and pose opportunities for them to solve problems and effect change. Students will conclude their semester by completing a capstone transdisciplinary design challenge. They will demonstrate their mastery of the design process by producing a final project ranging from better articulating a pathway to solve the identified problem to developing one or more prototypes to help solve the need.
Lab Atlanta is supported and underwritten by the generous contributions of individuals, families, and leading local and national foundations. It is also funded by tuition fees from participating students, with need-based financial aid available for those who qualify. Several collaborating organizations, both local and national, have signed on to partner in various ways with Lab Atlanta too. Our local collaborating partners include organizations such as Leadership Atlanta, Fearless Dialogues (founded by Emory Professor Gregory C. Ellison II), and The Public Design Workshop at Georgia Tech. Many individuals, as well, have offered to complement the expertise of our faculty and serve as mentors and professional resources for our students as they pursue their driving passions in fields like business, education, government, the non-profit service sector, and the arts. Partnering organizations and individuals with a more national profile include Stanford University faculty like Scott Sanchez of their Hasso Plattner Institute of Design, Inquiry Schools, and The Cloud Institute for Sustainability Education.
Lab Atlanta's first semester launches in January 2017, out of our home base at 40 Inwood Circle NE. Housed in the iconic former Iconologic building right in the heart of Midtown, Lab Atlanta occupies three floors and 7,000 square feet, with community rooms, breakout spaces, student studio/workspaces, a small makerspace, a reception area, and individual faculty offices. Yet our students and faculty will spend considerable time doing fieldwork outside the building and around the city on a regular basis. We hope our paths might cross with yours on one of these learning expeditions to various neighborhoods, museums, MARTA venues, businesses, or cultural institutions. And our students look forward to working with fellow Atlantans to leave a rich legacy of civic engagement, leadership, and inspired innovation throughout our city for years to come.
---
Citation: Pardee, Mike. "(Re)Designing the City with Lab Atlanta." Atlanta Studies. November 21, 2016. https://doi.org/10.18737/atls20161121.
---