Daniel Lamb's Unpacking Manuel's project took shape in two classes that Robin Wharton teaches at Georgia State.
In her Exposition: History, Theory, and Practice course, she adapted a project sequence designed by Cydney Alexis to introduce students to material culture studies and the techniques and processes of expository composition. Through engagement with the world of everyday objects, students in the class consider why we are driven to create, use, consume, and accumulate things. They create multimodal digital exhibits that attempt to answer a number of questions: Why and how do we form emotional attachments to inanimate objects? What do the possessions we own say about us–about our social and economic status, our cultural and ethnic identities, our psychological profile? To what extent is human behavior and expression dependent upon tools, prostheses, and other material goods? Does being human require a world of objects against which or through which we can define ourselves?
Lamb ultimately decided to extend his work in material culture studies through his capstone project in the second class he took with Wharton at GSU, the senior seminar. The result was the Scalar Project Unpacking Materiality: Artifacts and Relationships at Manuel's Tavern and an annotation in the Unpacking Manuel's Tavern project.Working on the Unpacking Manuel's project was a rewarding and surprisingly personal way to end my senior year at GSU. It threaded different areas of my life together—a job for six years as a bartender at the Tavern, my curiosity about rhetoric and objects, and composition in digital spaces.As I first searched for items that resonated with me, the memorial plaques of Manuel's Tavern seemed the obvious choice. When I worked at Manny's patrons would always ask me, "What do I have to do to get my name on a booth or bar stool?" My reply was usually something like, "You don't really want your name on a barstool. Only dead people get those." The numerous plaques around the Tavern are there to memorialize those friends and patrons who've passed on.I asked Manuel's owner Brian Maloof about some of the plaques, and if there was one that really stood out to him. He directed me to Bud Foote who was a musician, an English professor at Georgia Tech, and a loyal regular of the Tavern. Interviewing the family of Bud Foote and employees of Manuel's Tavern and speaking with other GSU faculty including Brennan Collins aided me in developing my nebulous idea into something cohesive that could add value to the collaborative archival project Unpacking Manuel's. When I interviewed Foote's daughter Anna and widow Ruth Anne, I learned a lot about him. Ruth Anne told me how much they enjoyed spending time at Manuel's. He was a good friend of Manuel Maloof, and they often spent time together at the Tavern. Foote even once interviewed Manuel for the Great Speckled Bird. Foote also notably co-founded the Atlanta Folk Music Society.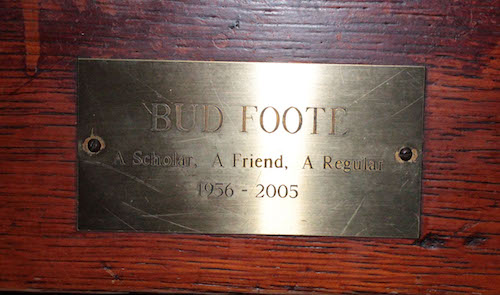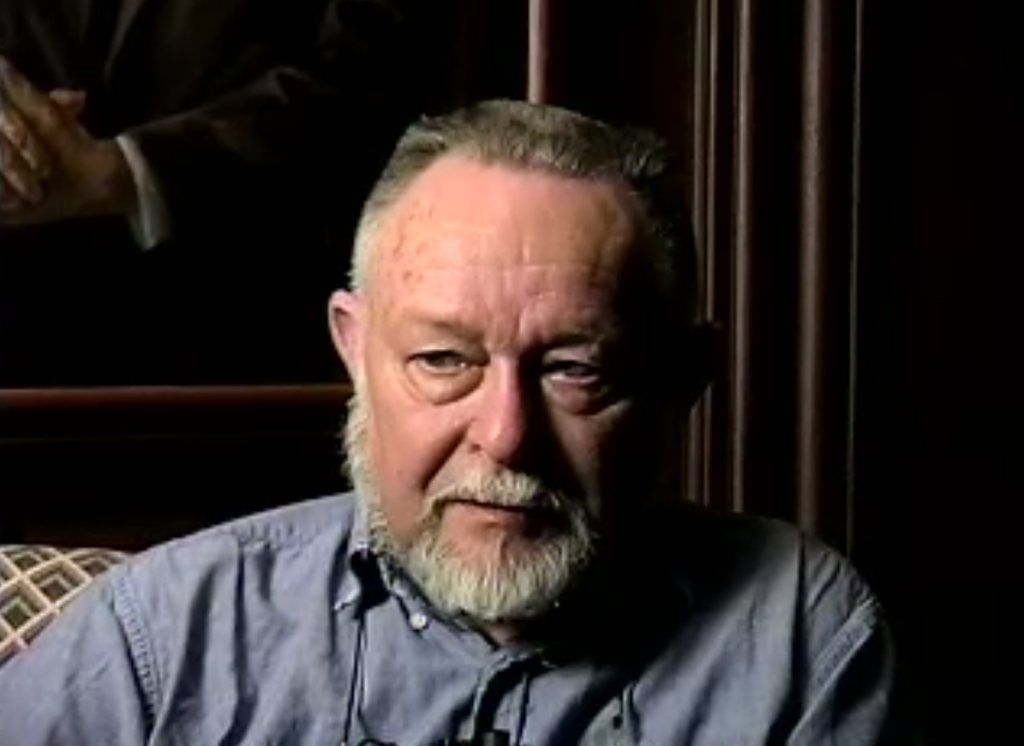 As I look back on the project now, the work has taken on a new significance. Having lost two close family members – my mother and her partner – in the last month, the phenomenon of memorialization makes a lot more sense to me. People look for ways to keep the candle of memory burning. As I've sorted through my family archive of photos and possessions, I've begun to hear the call of objects – the impulse to grasp at something solid in the midst of loss, the feeling of groundlessness. The Tavern and its objects have a way of making the impermanent seem solid, even though everything there is also in a state of flux and decay on the cellular level. Every memorial party I worked was earmarked by postulations of grief – solidifying loving memories of the deceased in the minds of the attendees – as a way to make sense of loss.Because of the Tavern's function as a stable presence in these folks' lives, the older generation of patrons has always balked at any changes we made – whether an update to the menu or moving some picture on the wall. Before the Tavern closed for renovations in 2015 a final flood of people came to experience the last vestiges of the "old Manuel's." The community seemed in a state of grief over the loss of their concept of Manuel's. But when I went back to work there for a few months last year, many people would come to me and ask, "What did they actually do?" The Tavern, while different and updated, still has the same kind of energy as before – a mausoleum of Atlanta culture, but one that is still brilliantly alive, its heartbeat in sync with the vibrations of the city.
---
Citation: Lamb, Daniel. "A Mausoleum You Can Drink In: Memorialization at Manny's." Atlanta Studies. September 12, 2017. https://doi.org/10.18737/atls20170912.
---