This September, Atlanta broke ground on an ambitious project to transform one of the city's biggest eyesores into a mixed-use reservoir and recreation space.
Bellwood Quarry is a century-old gash in the landscape near the Beltline in northwest Atlanta. The quarry was once used as a prison labor camp and granite extraction site. Recently, however, the quarry's only function was as a post-apocalyptic backdrop for TV and film projects: the camp scenes from the first season of The Walking Dead as well as Katniss Everdeen's "Hanging Tree" scene from The Hunger Games were filmed there.
Now, thanks to a $280 million dollar investment from the city, the site is slated to become Atlanta's largest public park, complete with baseball fields, hiking trails, and an outdoor theatre.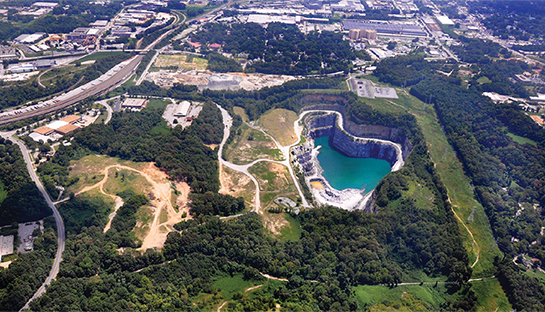 Although features of the park are modern and innovative, the project's underlying political strategy is nearly as old as the city itself. As I recount at greater depth in my recent book Thirsty City: Politics, Greed, and the Making of Atlanta's Water Crisis, Atlanta has a long and dubious history of wrapping expensive water infrastructural investments in shiny, politically popular packaging.
Projects That Sparkle
In the 1890s, Atlanta's first primitive reservoir became grossly polluted with outhouse, residential, and industrial waste. But as contaminated source streams were cut off one by one, reservoir water levels plummeted. With less than a day's worth of water in storage, downtown faucets slowed to a trickle every afternoon. In response, city crews dynamited bedrock along the Chattahoochee and hand-dug a trench connecting the river's water supply to a new reservoir on Hemphill Avenue.
Although that project's primary goal was to boost Atlanta's flagging water supply, publicity surrounding the project also focused heavily on its recreational value. The forest surrounding the reservoir was cleared and landscaped, complete with an encircling drive for weekend buggy trips. A reporter gushed that the new site was "the most beautiful, delightful and entrancing place in the country for the weary and languid." 1 Atlanta residents flocked to the site, eager to picnic next to the reservoir's clean, sparkling water.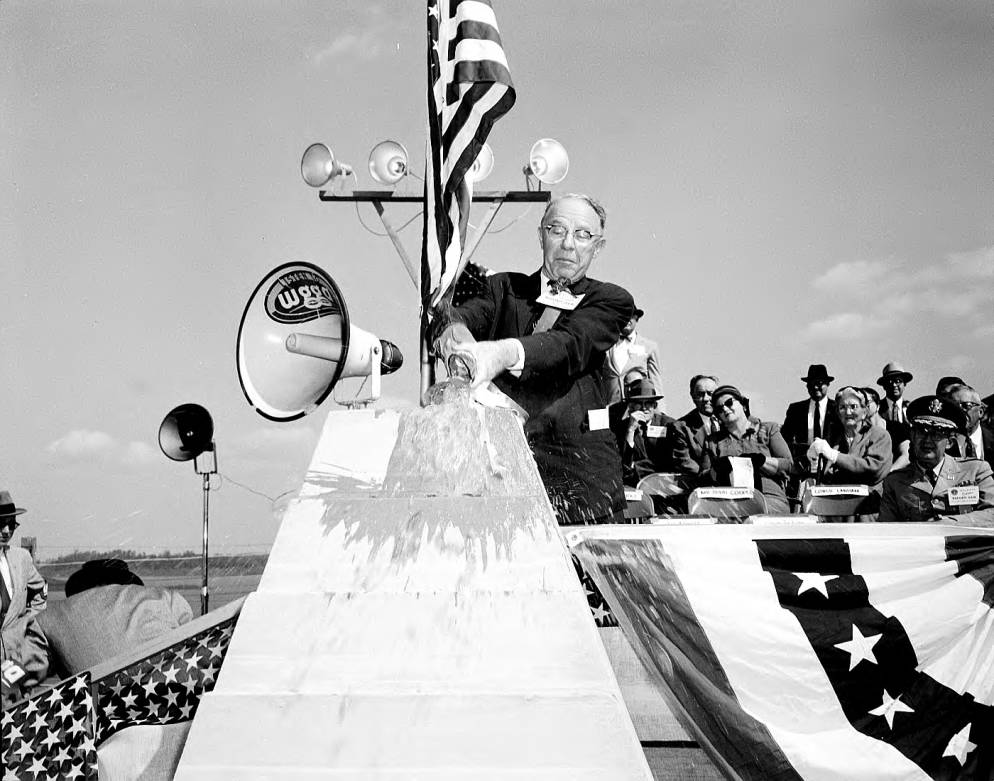 Likewise, in the 1940s, when Atlanta's water supply struggled to keep pace with industrial growth, Mayor Hartsfield pitched Buford Dam and Lake Lanier as a navigation, hydropower, and flood control project.
In contrast to Hemphill's recreational public relations campaign, however, Atlanta's emphasis on non-supply uses for Lake Lanier was all about economics. Atlanta leaders knew that the Army Corps would expect the city to pay a significant portion of the dam's cost if a significant portion of its benefit was in boosting municipal water supply. Hartsfield thus dispatched a team of policymakers and industry representatives toWashington to lobby aggressively for federal dam funding, arguing that any water supply benefits that the city might derive would be purely incidental to the project's main purposes.
The city got its free dam, but at a significant delayed cost. Atlanta metro's water withdrawals from Lake Lanier have been the subject of a now decades-long legal dispute with Alabama, Florida, and the Army Corps over the "authorized purposes" of the reservoir and its dam. This dispute, of course, brings us to Atlanta's current water predicament. Legal processes are stalled: the tri-state water war is slowly churning through the Supreme Court, and the parties are waiting for the Army Corps' updated dam operating manual. Atlanta's water needs, however, only continue to grow. 
In 2013, the city had the dubious distinction of being one of only a handful of east coast metro areas to have a moderately "stressed" water supply. 2 Once it's connected to the Chattahoochee River, Bellwood Quarry's 2.4 billion gallon capacity will boost the city's backup water supply from three days to thirty. This alone should be enough to curry favor for the project, but the reservoir is still sometimes characterized as a greenspace park that just happens to have a "sparkling" reservoir at its center. After years of litigation and prolonged seasons of droughts, why is Atlanta still reluctant to embrace water projects as valuable in their own right?
Atlanta's Mixed Use Love Affair
Until recently, the city's embrace of mixed use water projects seemed to have more to do with the sheer unpopularity of water infrastructure investments than it had to do with any actual appreciation for the projects' other uses. Major infrastructure upgrades fell victim to basic political calculus: a long-term benefit with an immediate cost equals inaction.
Atlanta could have raised the money to pay for a dam in 1948, just as it could have raised money for wastewater treatment upgrades in the 1970s or water supply system improvements in the 1980s and 1990s. But, because the initial project costs were high and the benefits were dispersed over decades of future use, a succession of administrations passed the buck. Instead, municipal spending was focused on more politically popular infrastructural projects, such as airports and sports stadiums.
In today's post-Flint era, however, in which the dangers of outdated water systems are splashed across newspaper headlines, the political equation for water projects may be changing. Certainly, decades of water disputes have instilled in Atlantans a sense of the gravity of the region's problems.
Still, much of the old political calculus may linger on today. There are many different ways for the city to improve its water supply issues, and some are certainly more popular than others.
Take, for example, Atlanta's aging pipes. Many of the city's water infrastructure is original from the first Hemphill Station plant. These 120-year-old pipes have reached the end of their estimated functional life, and system leaks waste a mind-blowing 14.65 million gallons of water every day. 2 Unfortunately, there's no easy way to replace the aging mains: they're located in the heart of Atlanta's downtown, and they'd need to be excavated from underneath Atlanta's most expensive real estate and most congested roads.
Who would want to be blamed for years of annoying rerouting and snarled traffic when there are other, more popular ways address the city's water concerns?
Whatever the city's motivation may be, Atlanta's new Bellwood Quarry park is sure to improve the urban recreational landscape – and the city's water supply – for future generations of Atlanta residents.  I do hope, however, that the city continues to work on its toughest water problem solutions in addition to the ones that are easy to sell.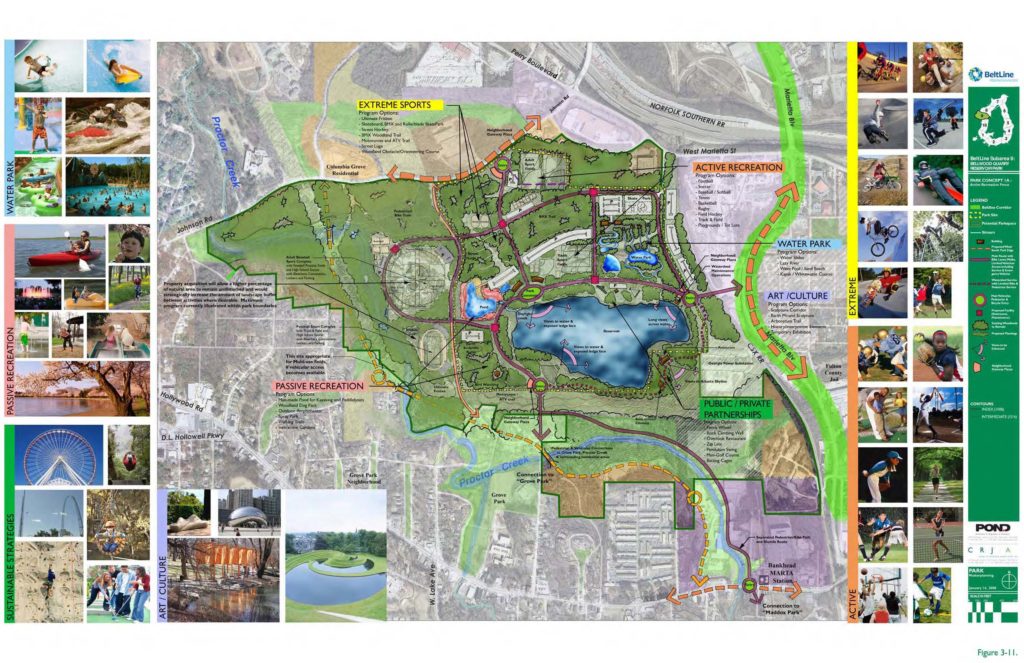 ---
Citation: Borden, Skye. "Bellwood Quarry: A New Water Project with an Old Sales Pitch." Atlanta Studies. January 17, 2017. https://doi.org/10.18737/atls20170117.
---
Notes
"The Waterworks: What Has Been Done and the Work in Hand," 

The Atlanta Constitution

, April 10, 1892, p. 10.[↩]
Metropolitan North Georgia Water Planning District, "Water Supply and Water Conservation Management Plan." 2009. pg. 4-5. [↩]