The individual stories that combine to form the history of Atlanta take place across the neighborhoods and landscapes of the city, some of which are remaining and some lost to urban development over time.
Over time, construction projects have obliterated areas of Atlanta along with the traces of the histories that took place in them, and layered new spaces and stories on top of where those used to be. As the Atlanta region grows and develops, sharing and preserving Atlanta's stories and personal histories that transpired in places still existing or now lost requires a combination of storytelling and geographical history.
The Emory Center for Digital Scholarship (ECDS) aims to enrich people's understanding of the Atlanta region and its history through the creation of OpenTour Builder, an open source software platform for building geospatial tours that are optimized for mobile devices.1 Using the OpenTour platform, local histories can be tied more closely to the places in which people lived and acted. By tying the telling of these stories to their historical spaces, Atlanta's layered history, formed by different time periods, populations, themes, and events, can be better understood by current residents and visitors. Public history organizations that study history applied in the real-world can now broadly share local histories by creating curated tours using ECDS's web-based application, accessed by URL through a web-browser.2 OpenTour makes local histories more accessible by allowing for both in-person pedestrian or driving tours on mobile devices as well as virtual touring through a computer browser. The web-based application design of OpenTour increases access to the tours as well, since it does not require the download of a specific app or a specific mobile platform, and can instead be used on any mobile device. This article will cover the development of OpenTour, OpenTour and public history, and how use of OpenTour tells the stories of Atlanta.
Developing OpenTour
Launched in 2014 as an interactive feature to accompany Daniel Pollock's monograph on the Battle of Atlanta, OpenTour Builder facilitates illuminating encounters with the past in Atlanta, a place where urban development has largely altered the landscape and made some histories difficult to locate by the general public.3 From the lost Atlanta Streetcar to neighborhoods that were demolished for the construction of the major highways and Freedom Parkway, contemporary Atlanta often doesn't provide easy access to past spaces. OpenTour has been a collaborative project from the beginning, pairing ECDS resources with experts who want to share stories about the history and past spaces of Atlanta.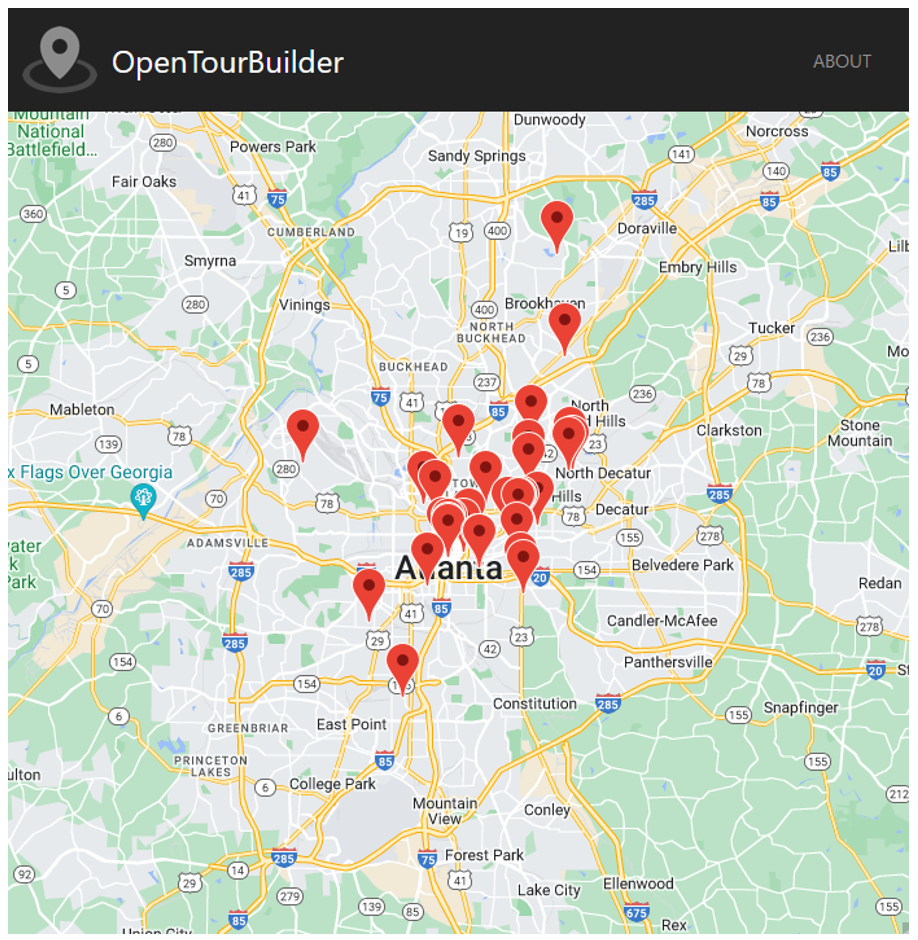 OpenTour has now expanded its scope beyond the Atlanta region, and has been used more broadly to tell stories of other places, such as teaching the landscape of Vienna, Austria, and preserving stories about historical trails in Millburn, New Jersey.4 OpenTour continues to enrich the understanding of Atlanta's history through sharing stories, however, as it has been adopted by multiple cultural organizations in the Atlanta region.
Engaging the public with local spaces, history, and art is increasingly a focus of cultural organizations throughout the Atlanta region as a part of urban development. For example, the Freedom Park Conservancy works to "promote the improvement and preservation" of public spaces "for a diverse public" and Georgia Humanities strives to share "stories that move us and make us" through varied means.5 Platforms that connect history to geographic spaces and which are readily accessible to the larger public can assist public history organizations in guiding urban development for the future of Atlanta and in informing Atlantans of local history, stories, and art of which they might otherwise be unaware, such as "the over 800 unmarked graves within" Oakland Cemetery.6 Mobile devices have provided "ubiquitous computing environments" that offer platforms through which organizations presenting public history can reach wider populations in nearly any space and time.7 OpenTour Builder leverages this opportunity to provide an open source option for public history organizations to share stories with the community. Historian Mark Tebeau states that "From a public history perspective, mobile tours are most effective when they present engaging and focused interpretive stories."8 OpenTour provides a format through which users can read stories illustrated by video, audio, and images that are directly relevant to a community and neighborhood and mapped to that place. This multimedia presentation is unique to a digital tour. The media integration also allows for presentation of information and images of spaces that may otherwise be inaccessible to visitors, whether because a site is closed or a historical point is now on private property. OpenTour supports fully curated tours that can be created by historical or cultural organizations to educate on specific themes or share specific local stories, such as mapping specific elements of the history of the music industry in Atlanta.
Tying these stories about the history of Atlanta to geographic points, such as neighborhoods, parks, streets, and buildings, can be an effective way to communicate the multi-layered history of Atlanta. OpenTour provides users the opportunity to create tours using integrated Google maps so that the positions of stories can be added to a tour map without a steep learning curve in mapping technology. An example of the layers of historical stories in Atlanta can be experienced through the OpenTour created for the 2019 "Dwelling" exhibition in Freedom Park. This exhibition outlined on the ground the lost foundations of houses, removed for the construction of the park, and described related accounts of the history of Freedom Park, which spans from the earliest residents of the area, including members of the Creek and Cherokee nations, through the displacement of residences and the subsequent founding of the park in the late twentieth century.9 OpenTour provides a venue not just to complement the public exhibition of "Dwelling" but to preserve and contextualize the history of the space online after the completion of the exhibition.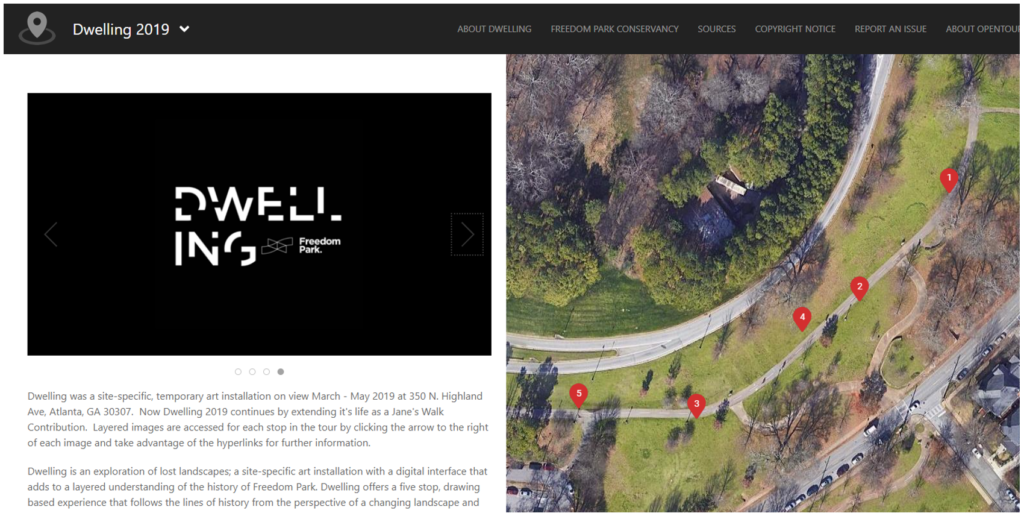 ECDS has developed the OpenTour app through three versions. OpenTour 3.0, launched in January 2019 and updated in February 2022, now supports hosting many different tours categorized into tour sites. Each tour site on the multisite OpenTour instance has its own URL and at that URL a user can delve into exploring multiple different tours. The ECDS instance of OpenTour currently hosts twenty-four public tour sites and continues to expand (https://opentour.site). Public humanities organizations and scholars can apply to partner with ECDS on a tour site on this installation. The code to install an independent instance of the OpenTour app is also available on GitHub, and each instance can support multiple tour sites each with many tours.10 This format allows for the multi-layered stories of the city to be communicated not only within one tour, but hosted side-by-side with other tours fit into the landscape of the urban environment.
OpenTour has been built using the Javascript framework Ember.js (https://emberjs.com/) to create the user interface and the Ruby-on-Rails (https://rubyonrails.org/) web application framework to manage the data of the tours. Through this combination the programmers have created an easy-to-use application through which tour authors can enter data with minimal experience in technology.11 The integrated Google maps functionality allows tour authors to enter stops easily by searching for an address, a known public point, or GPS point data, without having to gather precisely formatted location data for all stops. Stop positions can then be dragged and positioned precisely on the map so that users get the best directions drawn from Google maps. In addition to Google maps directions, tour authors can add personalized directions to each stop for local details that Google maps would not know. OpenTour is also designed to easily run on a mobile device, laptop, or desktop, which allows tour users to view a tour on-site and then review the local history at home at a later time. Each OpenTour tour can be shared through social media, such as Twitter, so that stories of the city can reach wider populations.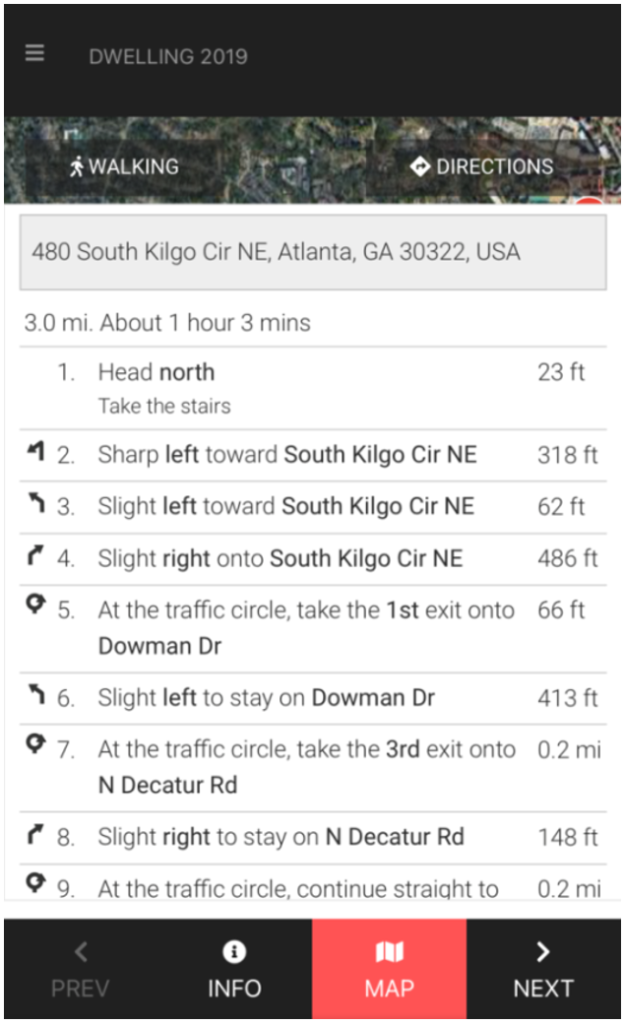 Through additional development, new features continue to be incorporated and a new set of features were launched in February 2022. In addition to having the selection of any of the default Google maps basemaps, tour creators can now overlay a historical map over the Google maps basemap and place points on that map.12 Tour creators can color points or upload images for stop points to easily distinguish between types or categories of stops, for instance distinguishing between remaining buildings or demolished buildings, for a tour user. An accessibility feature that is provided on mobile devices is a computerized voice that can read out the text at each tour stop, and tour creators can now select the language of that text for clear reading. The expanded features also allow for the use of a wider variety of media file types, including various images, video through Vimeo or YouTube, and audio through SoundCloud, built into the app. Tour creators can also use custom code to include additional content, like a digital timeline.13
The OpenTour app was developed to address the need for technology to provide historical and cultural tours at an accessible cost. Paper printing for the creation of guides is expensive and organizations and scholars who want to present historical tours often have limited funding. An institution seeking to host their own multisite of OpenTour tours only needs to rent server space (which can run around $20 a month) or partner with another organization that has access to such space. ECDS has developed the OpenTour application to serve public humanities organizations and scholars who want to share historical, artistic, and cultural information guided in a step by step tour. Other available online tour apps, such as the Clio or Geotourist, are designed around crowd-sourcing large amounts of content. While the Clio "guides the public to thousands of historical and cultural sites throughout the United States,"14 OpenTour allows a tour creator to design uniquely curated tours and sets of tours at a distinct URL (web link). By having a branded distinct URL, the tour creator can direct the public to a specific tour or specific collection of tours ("Tour Site") so that the user does not end up confused by other unrelated content on the site.
This contextualization of public history maximizes the reader's engagement with the stories. Other popular online map based apps, like ArcGIS storymaps, and Storymap.js are good ways to tell a story in a map-based format, however, these applications do not have turn-by-turn built in navigation, and are intended to be browsed from home, not on site walking stop to stop. OpenTour provides turn-by-turn directions, so that a tour can be taken on site. Finally, other mobile apps that provide similar features to OpenTour Builder, come with high yearly costs for the tour creator, a prohibitive stumbling block for most public humanities organizations and scholars who rely on donations and volunteers.15 By contrast OpenTour has been developed to maximize accessibility. It has been created as free open-source software that is free to install and free to use in partnership with ECDS for less technical users. There is no app to download, allowing easy access from any mobile browser and quick linking to your tour by QR code. Avoiding an app download appeals to travelers, who may not want to download an app for a single short trip to Atlanta. OpenTour is optimized for mobile viewing, creating a seamless easy experience on any cell phone, but it also allows for a desktop and laptop layout to review tours for slower reading at home.
OpenTour and Public History
Public history developed visibly in the 1970s and debates have continued to flourish around who exactly the audience of public history is and how history and personal and collective memory relate.16 In urban historian Dolores Hayden's examination of how "locating ethnic and women's history in urban space" can contribute to "redefining the mainstream experience" and "making visible some of its forgotten parts," she discusses a 1975 debate between urban sociologist Herbert J. Gans and architectural critic Ada Louise Huxtable. In their debate, Gans argues that New York's Landmarks Preservation Commission designates elite architecture, mansions and buildings of the rich, while it "allows popular architecture to disappear." Huxtable counters that the grand architectural structures "are a primary and irreplaceable part of civilization."17 Despite their disagreements, they both discuss elements, popular and grand architecture, that imprint the urban landscape. Modern public history can use technology such as OpenTour to locate the lost and fading histories of neighborhoods, events, and works of architecture to contextualize the development of modern lived spaces. The preservation of these stories through technology allows public history to contextualize urban spaces while reaching a diverse audience through technology that fits into the developing smart city.
OpenTour has been developed as technology that supports public history organizations in a variety of ways. Public history organizations can use technology to bring in individuals through social media sharing. OpenTour's easy mobile accessibility can communicate histories through social media channels. Public historian Anne Lindsay defines a virtual tourist as "a person who seeks the experience of tourism through a virtual interface." Virtual tourists may not have the income for traveling to sites in person, may have other limitations, or may simply enjoy the tourist experience from home or work lunch breaks.18 Virtual tourism provides an alternative audience for low-resource cultural heritage institutions. Through the period of COVID-19 limited travel, virtual tourism has also been an important avenue for keeping the people of Atlanta tied to spaces that have been less accessible. Blending the virtual and physical site to provide an avenue for a narrative is an important aspect of virtual tourism. While on-site tours led by docents take visitors on a guided view of a site, virtual visitors are free to explore an environment at their own pace. OpenTour has been developed for both guided and free exploration options on both a mobile and desktop friendly interface, supporting the ability for public history organizations to engage the public with the stories and spaces of the city whether or not they can access those spaces immediately.
The OpenTour tour layout allows tour users to follow a curated order of stops or to choose their own free exploration route, perhaps personally interesting to them or one that accommodates a shorter time-frame. Lindsay states that "the connections between public memory and the museum experience can be instructive in considering the larger implications of physical and virtual synthesis in heritage tourism."19 OpenTour furnishes an avenue for institutions to consider the relationship between public memory and sites throughout the Atlanta region and beyond within a virtual app environment.
Oral historian Simon Bradley discussed the increasing popularity of oral history audiowalks, as technology has allowed such oral histories to be more easily shared, stating that audiowalks stand "at the crossroads between mobile media, heritage, education, and entertainment."20 OpenTour joins this technological challenge, providing a new way to engage the public with local histories in a multimedia format. Using such multimedia digital tours allows cultural history organizations to reach greater numbers of people accommodating digital heritage tourists.21 OpenTour's clean design increases the accessibility of Atlanta tours through clear legible text, which can be read aloud on mobile by the click of an icon in whichever language the tour creator selects. The pairing of different forms of media, including images, video, audio, text, and maps, in the creation of a guided tour inspires the interest of a wide variety of audiences. See figures 6-8 below for examples of different combinations of media in tours.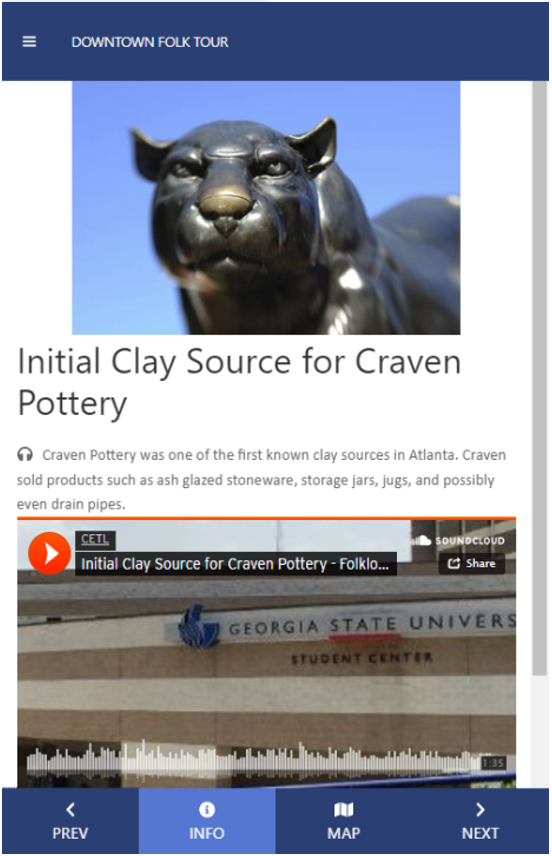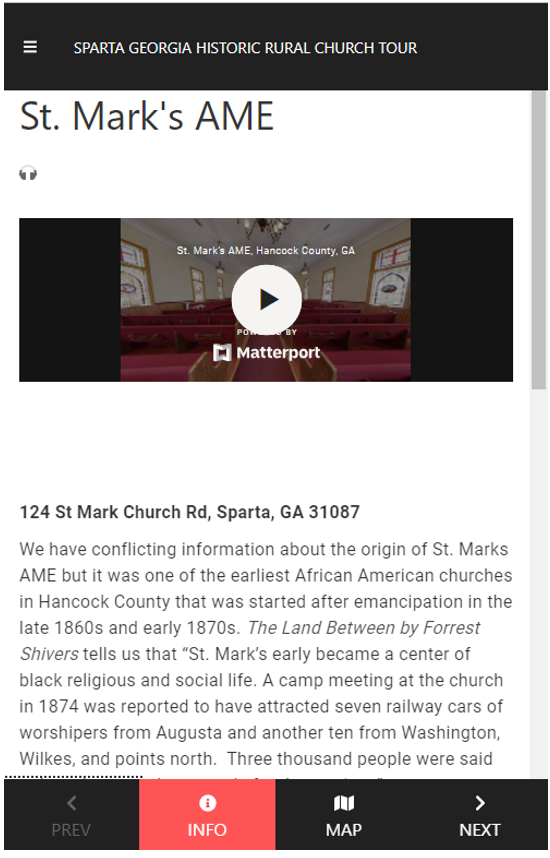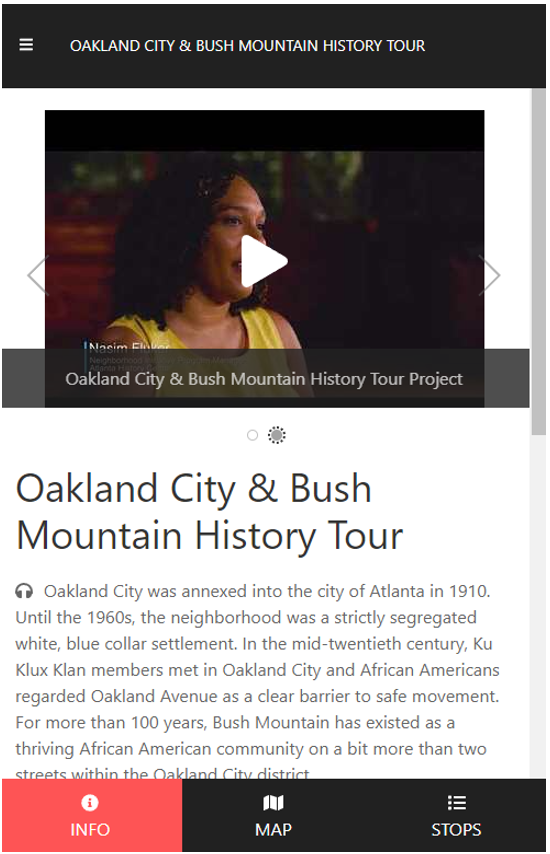 The OpenTour format provides a critical forum to present the ties among local histories and places in the city, engaging the people of Atlanta with their urban environment. The lightweight OpenTour app increases the availability of the stories shared by cultural and public history organizations to the people of Atlanta and beyond.
Using OpenTour: The Stories of Atlanta
The Emory Center for Digital Scholarship (ECDS) has formed partnerships with multiple cultural organizations around the city of Atlanta to use OpenTour to share the stories of the city. OpenTour's design allows these organizations to create curated tours that tell stories of the history of the Atlanta region, connecting visitors and residents to different areas around the city. The web-based application design allows the stories to be more accessible whether the tours are experienced on site or virtually, when users cannot get to the site in person. These partnerships and tours in OpenTour have continued to see increased use by the public, even during the COVID-19 pandemic. Over the course of the year 2021, the ECDS OpenTour site (https://opentour.site) saw over 9,000 users, with over 5,000 users in Georgia. Over 13,500 visits to tours took place, with each visit consisting of an average of 15 page views, indicating that users are reading through full tours.
OpenTour tour sites created by the Atlanta History Center, Freedom Park Conservancy, Georgia State University, and Emory University provide and continue to develop historical and cultural tours of places around the city. During the COVID-19 pandemic, OpenTour has offered a valuable way for groups to provide socially-distanced events to the Atlanta public when in-person events were not an option. The Atlanta History Center has used OpenTour as a way to create a socially-distanced alternative to in-person events, and they continue to develop digital OpenTours that will take the place of previously printed paper tours.22 OpenTour has recently been used in partnership with the Atlanta History Center to pair with their exhibit Cyclorama: The Big Picture, which restored and contextualized the 360 degree painting.23 The Freedom Park Conservancy first developed their Dwelling 2019 tour as a digital guide for a temporary exhibition. They have now also launched a Jane's Walk tour as a socially-distanced alternative to their usual in-person Jane's Walk group tours.24 Jane's Walk tours are free, community-led walking conversations inspired by Jane Jacobs, which take place around the country each year.25 Georgia State and Emory have both developed tours of historical events around the spaces of their campuses. Georgia State has developed a variety of tours including Veiled Visions, the 1906 Race Riot, and Atlanta Kneel-ins 1959-1970s.26 The Emory University Public Art Committee, which advocates for Emory's commitment to public art and facilitates maintenance of that art, created and maintains a tour that guides users to the available works of Public Art on Emory campus, with information, images, and videos.27 This tour supports the Public Art Committee's mission by sharing the Public Art on campus (see figures below). Emory instructors have developed tours to teach students and get them out into the spaces of the city such as the Atlanta Music Maps tours.28 A further set of tours on the history of the Civil Rights movement in Atlanta is in development through ECDS.29 In this wide variety of tours, each tour provides a road into different stories of the history and culture of different parts of the city and region of Atlanta. OpenTour provides the platform for these stories to be told to the public.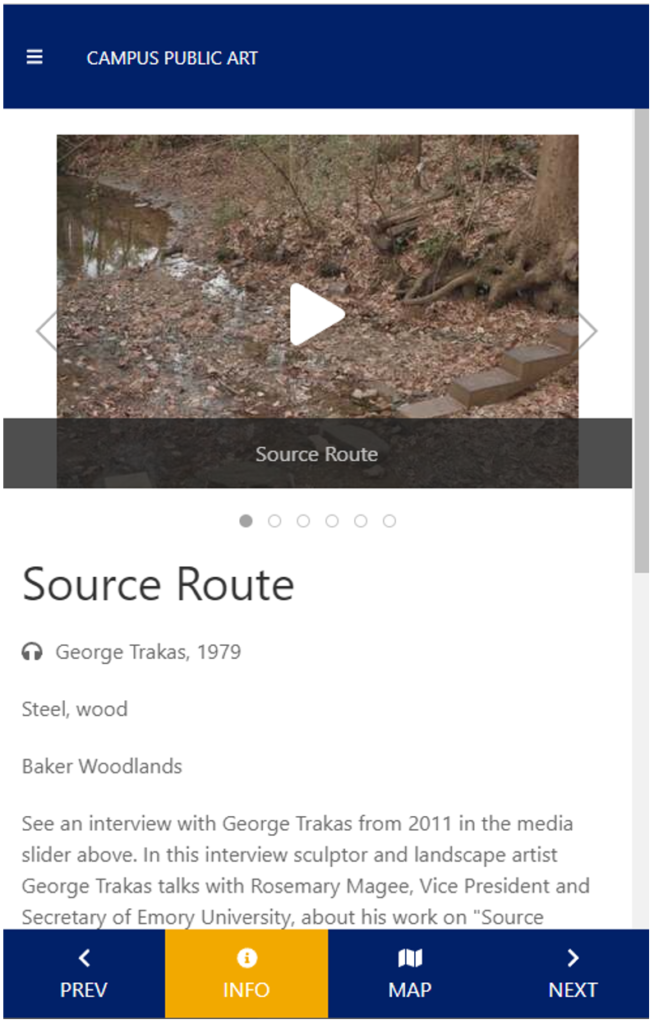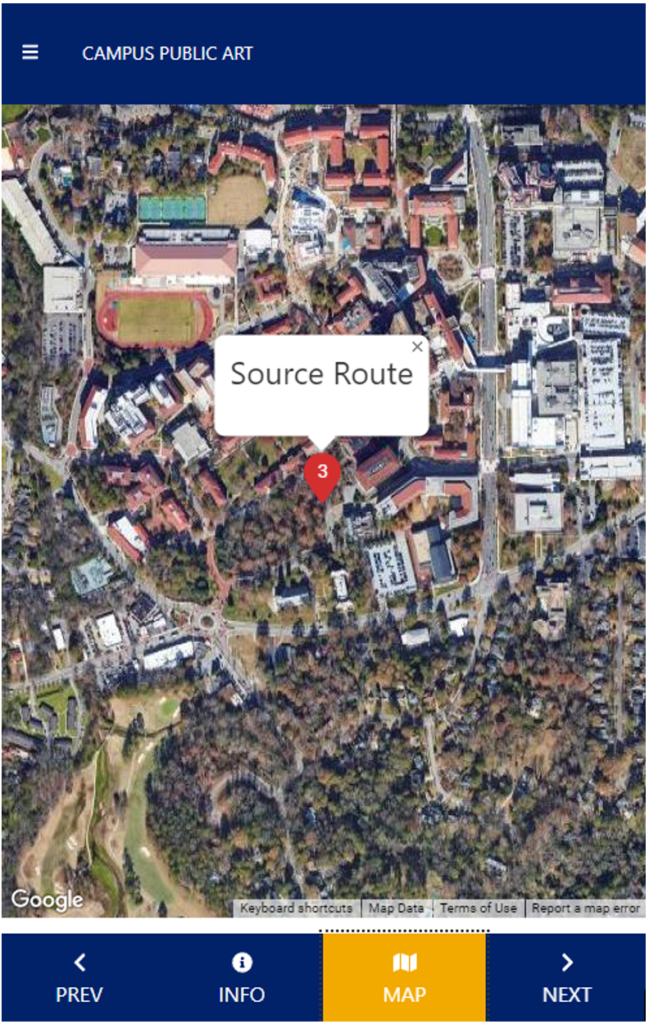 The Georgia Humanities and the Historic Rural Churches of Georgia organizations are also developing tours of stories and sites around Georgia beyond the borders of Atlanta. Georgia Humanities has offered grants through their Digital Tour Initiative in a twice-yearly cycle to support Georgia based non-profit organizations in the development of digital tours through OpenTour.30 Bartow's African-American Heritage Trail won the 2019 Award of Excellence from the Georgia Downtown Association, which is hosted on OpenTour as a part of the Georgia Humanities grant program.31 The Greater Augusta Arts Council also established a partnership with ECDS after their use of OpenTour as a part of the Georgia Humanities grant program. They have now continued to develop additional tours of the Augusta area on their own OpenTour site.32 Another Georgia Humanities grant recipient, the #TUOR Project, is a set of self-guided tours featuring sites important to queer Atlanta in the last fifty years.33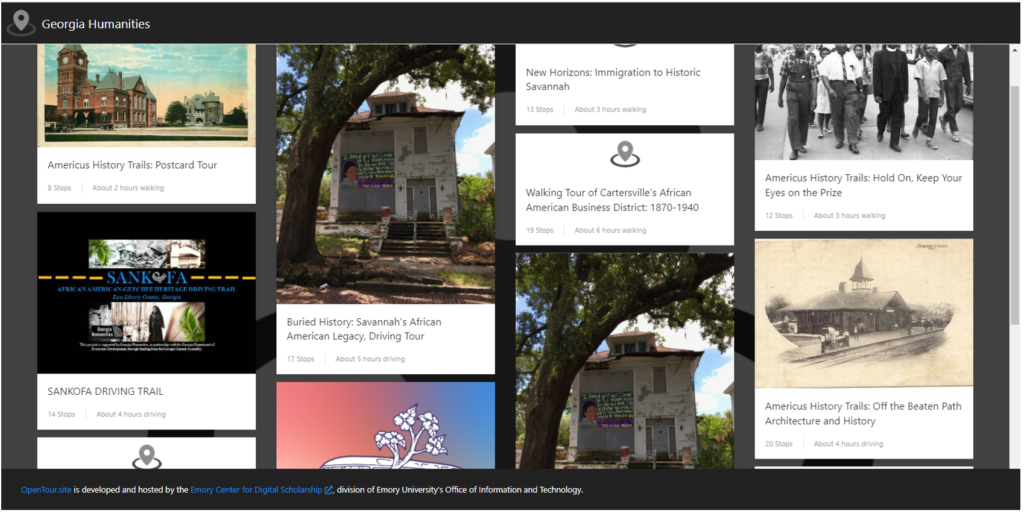 Such tours feature a variety of cultural and historical topics from major historical events to local public art. The variety of topics demonstrates how OpenTour is a tool that can be used to highlight the stories and cultures of urban Atlanta, and other places, through a digital means that can help make forgotten parts of history visible and make art and stories accessible to a wider public. The OpenTour app can reach more publics through its lightweight design and use of mobile and desktop technologies. By creating cultural and historical tours, stories can be tied to the physical spaces of the landscape of the Atlanta region, which gets the public out into the spaces of the city and familiarizes new and old residents of Atlanta alike with the neighborhoods they inhabit. Organizations can get the people of Atlanta more engaged in the urban environment so that their lived experience of the city's spaces is deepened with more context and understanding of all of the people who live in these spaces.
---
Citation: Mundy, Joanna. "OpenTour Builder: an open source platform for highlighting Atlanta stories in the lived environment of the city." Atlanta Studies. November 3, 2022. https://doi.org/10.18737/atls20221103.
---
Joanna Mundy (@EmoryCDS) is a Digital Projects Specialist at the Emory Center for Digital Scholarship (ECDS), working with database-driven websites, digital exhibitions, mapping projects, and network analysis. She is project manager of the OpenTour Builderand Readux open-source applications, which are developed by ECDS. Her research focuses on ancient Roman housing, social network analysis, and data management. Her dissertation, "Domūs and Insulae in the City of Rome: Living Spaces, Design, and Development," (2018) examines over 100 houses from the city of Rome, using spatial analysis on the house interiors and using network analysis to interpret how the city's urban plan was affected by networks among the houses.
---
Notes