On September 13, 2013, Radric Delantic Davis – the popular Atlanta rapper better known as "Gucci Mane" – found himself depressed, alone, paranoid, and mumbling incoherently to himself when he decided to violate his house arrest and leave his music studio, the Brick Factory.
Best known for helping put Down South Trap Music1 on the map, Davis was now wandering down Atlanta's Moreland Avenue in a zombie-like state under the influence of "lean" – a mix of codeine and promethazine syrup – still wearing an ankle monitor. Davis was angry and armed when Officer Ivy, an Atlanta policeman, pulled alongside him to ask where he was headed. After Davis was combative towards the officer back-up officers were called. When they arrived they wrestled Davis to the ground as medics sedated him into what he describes as a "chemically-induced calm" (xii).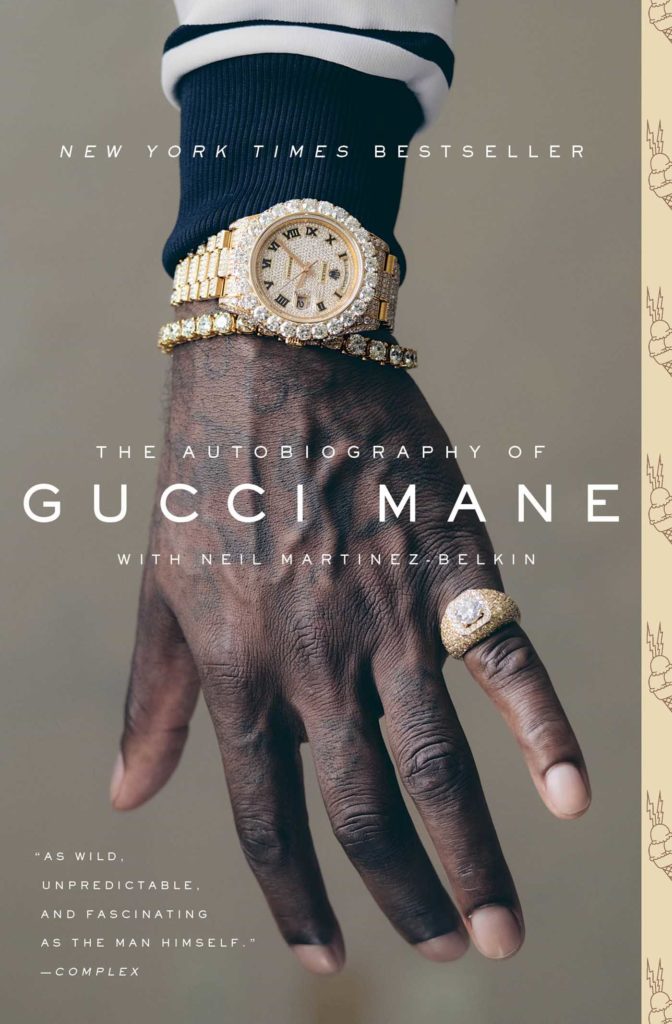 This forced state of composure, which would ultimately represent the beginning of the end of what Gucci Mane deems his "nightmare," serves alongside his subsequent sentencing to two years in prison for possession of a firearm by a convicted felon as one of the two turning points in the prologue to The Autobiography of Gucci Mane. At just shy of 300 pages, the autobiography recounts these and many other stories from Davis's life – ranging from his recent triumph over drugs, to his experiences with poverty, fame, incarceration, family dysfunction, and mental illness – and has quickly become one of the most popular memoirs in the literary canon of Hip Hop Studies 2 Written as told to the pop culture journalist Neil Martinez Belkin, The Autobiography of Gucci Mane starts with Davis's humble beginnings in Bessemer, Alabama. Davis continues to reflect throughout the memoir on moments of his childhood in order to understand the various predicaments he later finds himself in, in the process offering intimate details on how his family shaped his life.
As recounted in the first chapter, titled "The Gucci Man," Davis was born on February 12, 1980, to Ralph Everett Dudley and Vicky Davis. Dudley was an Army veteran-turned hustler-turned con man who loved style and fashion. "Throughout the course of his life my father went by a lot of aliases," Davis writes. "Slim Daddy. Ralph Witherspoon. Ricardo Love. For the purposes of this story, a nickname he received as a young boy matters most: Gucci Mane. That's right. He's the OG" (5). As he explains, the nickname Davis would adopt as his own moniker stemmed from the special affinity his father had for the Gucci brand while a serviceman in Italy. His mother – a teacher he describes as a "very smart, hardworking, and resourceful woman" (7) – met his father in 1978 shortly after she graduated from Lawson State with an associate's degree and just before enrolling at the historically black Miles College to study social work. Davis's maternal grandfather, Walter Lee Davis, provided a stable home for the young Radric and in fact it is his address that Davis references with his "1017" jewelry and accessories. But when Davis was seven, his grandfather died suddenly. This event was the catalyst for Radric's mother to then pack up and move him and his older brother Duke to Atlanta, Georgia, the city he would ultimately claim and help culturally define.
The book then turns from Davis's time in Alabama to his initiation into the political economy of narcotics distribution as a young man living in the concentrated poverty of Atlanta's Zone 6. During Davis's childhood, the zone was vexed by the influence of the crack cocaine epidemic that hit Atlanta's poor and black communities with a terminal vengeance in the 1980s following the Civil Rights Movement. The continued proliferation of the drug attracted African American youth like Davis to sell crack as it established economic traps and educational barriers throughout the city and region. Davis discusses these pressures and his decisions to sell drugs rather than finish Georgia Perimeter College, which he had received the HOPE scholarship to attend. Davis also recounts the first times he smoked marijuana and drank lean, describing how his subsequent binges led to bad decisions and violent bouts with paranoia.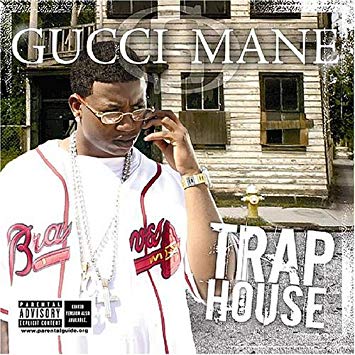 From there, Davis moves on to the emergence of trap music and the role he played in creating the genre, as he takes the reader through the rise and fall of the Brick Factory, and his collaborations with fellow rappers such as OJ da Juiceman, Waka Flocka Flame, and Migos. He spares no detail in talking about the recording of the song "So Icey" that introduced him to a wider audience while also creating a longstanding feud with fellow Atlanta rapper Young Jeezy. Notably, Davis's voice is not compromised as it bounces between the conflicting duality of his complicated life story and the continued ascension of Gucci Mane, the trap music alter ego he introduced with his first album Trap House (2005). He vacillates between the murder charge he caught in 2005 for defending himself against a robber and living with the fact that he was never convicted of it. He opens up about his struggles with his father. But the reader also gets an inside account of the popularity he attained through his records and mixtapes, and his relationships with the people who stuck with him while also holding him accountable for his bad decision-making. Among those are his now wife but then girlfriend Keyshia "Ka'oir" Watson.
Davis's journey towards sobriety has been an arduous one and throughout his autobiography, he displays a remarkable transparency about his drug use and its relationship with his mental health challenges. The memoir provides critical backstory on how Davis ultimately became the pop culture icon Gucci Mane. However, as it makes clear, none of it came without sacrifice or an understanding of the complex nature of coming of age during a time when, as today, there were two Black Atlantas: the privileged one and the poor one. Radric Davis was from the latter, and Gucci Mane rapped about it. From this perspective, The Autobiography of Gucci Mane is a literary annotation of Davis's life as it is revealed in the verses of his rap lyrics.
Beyond music, Davis's memoir also serves as a critical text for a developing area of cultural inquiry that I refer to as Atlanta Hip Hop Studies 3 – an area of inquiry in the field of Hip Hop Studies that focuses on Atlanta hip hop history and its relationship to the city's social, technological, and cultural politics. Radric Davis's memoir is an honest, gripping, and indispensable insider's account of how Atlanta's trap scene emerged and continues to critique issues of persistent racial and economic inequities across the city.
---
Citation: Wilson, Joycelyn. "Trap Memoirs and Atlanta Hip Hop Studies: A Review of The Autobiography of Gucci Mane." Atlanta Studies. August 20, 2019. https://doi.org/10.18737/atls20190827.
---
Notes
Down South Trap Music is rap music produced and curated in the American South. Created in the early 1990s by Chad "Pimp C" Butler, its sound is rooted in southern funk, jazz, soul, and gospel – with particular use of live instrumentation alongside signature percussion styles of the South, including hollow and sometimes muted 808 bass drops, hi-hats, Afro-trap beats, horns, and the latest technology to innovate new sounds. Fundamental to its storytelling are trap ideologies and resilience narratives performed primarily by Black youth and youth influencers coming of age in the South during the crack-cocaine/mass incarceration era and its relationship to the Black family structure, Black mental health, police brutality, access to healthcare, capitalism and entrepreneurship, and overall equitable access to basic civil and human rights. Also see Joycelyn Wilson, "The Music of the Murders," Bitter Southerner, 2019, https://bittersoutherner.com/from-the-southern-perspective/the-music-of-the-atlanta-child-murders-joycelyn-wilson, where I write, "The music, storytelling, folklore, and culture that emerges out of the poor and marginalized communities of Atlanta – what we call 'Trap' – is directly nuanced by generational, psychological, linguistic, and ideological roots in the traumas and environmental predicaments of the Atlanta Child Murders."[↩]
Hip Hop Studies is a multi-disciplinary field of study that applies intersectional thought and methodologies in sociology, anthropology, ethnography, political science, education and pedagogy, cultural studies, rhetorical studies, digital media, interactive design, digital scholarship, and gender studies. The field emerged with the publication of Tricia Rose, Black Noise: Rap Music and Black Culture in Contemporary America (Middletown, CT: Wesleyan University Press, 1994), William Eric Perkins, ed., Droppin' Science: Critical Essays on Rap Music and Hip Hop Culture (Philadelphia: Temple University Press, 1996), and Russell A. Potter, Spectacular Vernaculars: Hip Hop and the Politics of Postmodernism (Albany, NY: State University of New York Press, 1995). The field became formalized with the publication of the edited volume Mark Anthony Neal and Murray Forman, eds., That's the Joint!: The Hip-hop Studies Reader (New York: Routledge, 2004). The field also includes memoir-writing, essays, and other hybrid texts written by authors outside of academia.[↩]
Atlanta Hip Hop Studies has its foundation in Hip Hop Studies as it focuses on the impact of Atlanta on the sound, performance, philosophies, and practice of Hip Hop in America, the US South, and abroad. The field's research, teaching, and scholarship is multi-disciplinary and intersectional, including analysis of trap music and culture, pop culture, social justice, and electoral politics, and is rooted in the foundations of Hip Hop, including its pedagogical performance and Afro-diasporic aesthetic practices.[↩]