In his recent Pulitzer Prize-winning book Evicted: Poverty and Profit in the American City, Matthew Desmond writes of chronic displacement as an important symptom of contemporary poverty.
Chronic displacement is often caused by eviction, and though eviction-led displacement has not previously garnered widespread attention in discussions of poverty, the phenomenon is now gaining broader recognition.1 The 2016 Survey of Consumer Finances found that 9 percent of all renting households in the United States experienced a forced displacement between 2014 and 2016, either due to an eviction pursued via the court system, or through a more informal process.2
In our discussion paper published with the Federal Reserve Bank of Atlanta in December 2016, my coauthors and I found that the eviction filings rate in Fulton County, Georgia is very high, with 22 percent of all rental households having received an eviction notice in 2015. Not all eviction filings lead to eviction; we found that over 5 percent of rental households were formally evicted through the court system.3 This eviction rate, though high, is probably a very conservative estimate of eviction-led displacement in Atlanta, as we cannot capture informal evictions in our measures. In line with our findings, a recent report from Apartment List lists Atlanta as having the third highest eviction rate of cities across the nation.4
Such evictions are bad for households, for children, and for neighborhoods. Tenants often lose their possessions when they are evicted, and though they may find a new home and maintain or replace their income, rebuilding their stock of material possessions can take years. Eviction can lead households to move to much worse living situations in much worse neighborhoods in their haste to find new accommodation, which may then provoke a second move a year or two later, so that one displacement becomes two spread out over a longer time-period. The stress of eviction can exacerbate illness and lead to depression. Finally, high levels of displacement are not just bad for households, but for neighborhoods, schools, and the broader community. It is difficult to teach or learn in a first-grade classroom in a neighborhood a large proportion of your neighbors are forced to move every year; or to carry out many other essential community functions.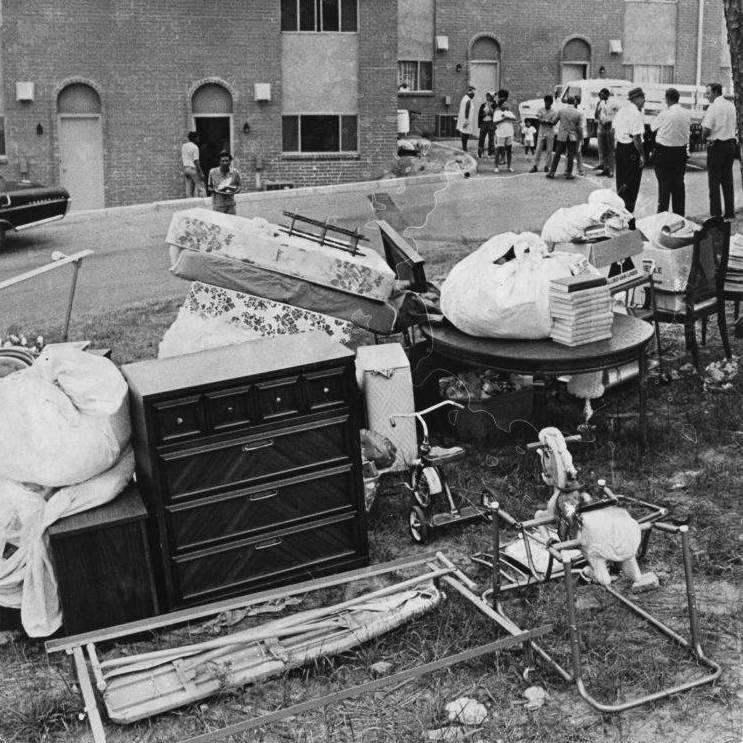 Large Landlords and Predominantly Black Neighborhoods
Our research into evictions in Atlanta was covered widely in the media, both locally and nationally, over the past year.5 As I watched the response to this coverage carefully, to my surprise, I discovered that our research seemed to cross political lines and touch widespread insecurities among middle class households centered around that staple of the American Dream: homeownership. The single-family home has been the setting for the American Dream for generations.
The figure of the single-family rental owned by a large firm with aggressive eviction practices – which we explored in the second half of the paper – seems to have evoked for many readers a sense of a middle-class status lost, of households exposed to precarity not just at work, but in the heart of domestic life. In our examination of housing instability among this relatively well-to-do swath of tenants we compared two different types of landlords: small landlords who own fewer than fifteen rental units in Fulton County and large landlords who own more than fifteen rental units. Many of the private equity real estate investment firms which had bought so many foreclosed homes in the aftermath of the foreclosure crisis fall into the latter category. While there are reasons to believe that larger landlords, or better-financed landlords, might have more stable relationships with their tenants than mom-and-pops, we found that overall, even after controlling for property and neighborhood characteristics, large landlords were 8 percent more likely to file eviction notices. Some private equity firms had extremely aggressive eviction records, with one filing notices against 30 percent of their tenants in one year. While the eviction crisis may be reaching single-family rentals in neighborhoods with predominantly owner-occupied properties and middle-class families, we found that this crisis in Atlanta is visited mostly on the poor and disproportionately affects predominantly Black neighborhoods. The spatial and racial inequality we found when mapping the eviction crisis in Atlanta was a less-reported aspect of our research. We found extremely high eviction rates among multifamily apartment complexes: some in the northern suburbs like Sandy Springs, but primarily in South Atlanta and southwest Fulton county. In some zip codes there, nearly half of all rental households had received an eviction notice and one in six households were formally evicted. That is a conservative estimate of the total level of displacement in light of recent research that has established that as many as half of all forced moves are informal, and do not go through the judicial process, thus leaving little in the way of records.6 In our regression analysis, we confirmed that evictions were more common in predominantly Black neighborhoods even after controlling for income, education, housing quality, and other factors.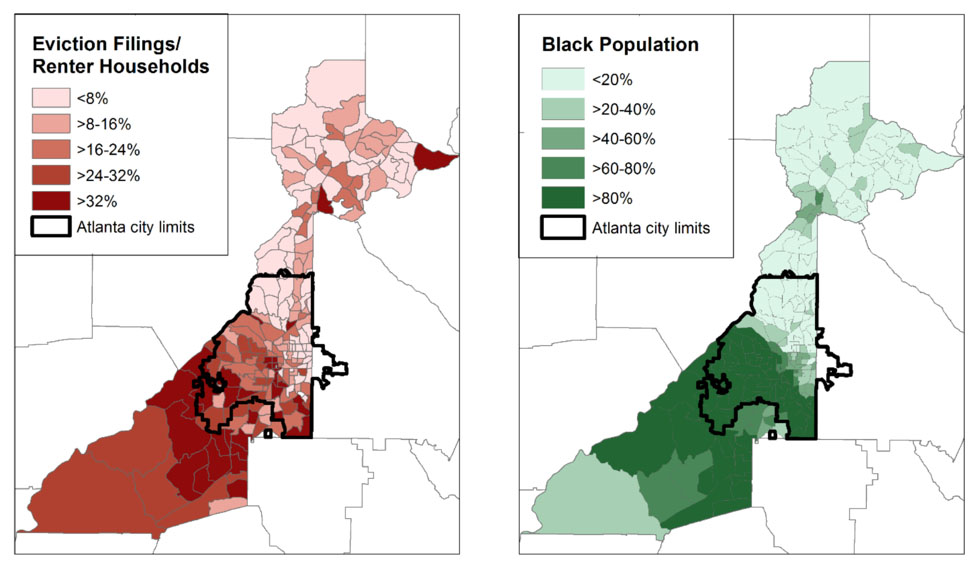 Displacement and Gentrification in Atlanta
Many have looked at this data and our report and connected it to the gentrification happening in and around Atlanta, and the disappearance of affordable rental housing in our city. While I agree that the swift declines in affordable units have pressured renters at all income levels, and are undoubtedly leading to higher eviction rates, we were not able to confirm with our model that eviction rates are higher in gentrifying neighborhoods in our city. However, other research has shown that Atlanta is losing affordable housing at an alarming rate, with a decline of 16 percent of affordable units between 2010 and 2014.7 Moreover, recent research has confirmed that places with higher rent burdens, that is, places where tenants pay a higher percentage of their rent, are predictably more likely to have high eviction rates.8
The City of Atlanta has recently started to take steps to address the city's affordability crisis. As city councilor last year, Mayor Keisha Lance Bottoms authored a displacement-free zone program, which, though it protects homeowners and not renters, nonetheless demonstrated an interest in addressing issues of gentrification and displacement. City Council also passed a mandatory inclusionary zoning law sponsored by Councilmember Andre Dickens. In her recent campaign, Mayor Bottoms ran on a platform that was more focused on affordable housing than her runoff opponent Mary Norwood. Specifically, Mayor Bottoms committed to raising one billion dollars via private-public partnership to fight displacement and preserve affordability.
She also committed to establishing a rental housing initiative as well as to a plan for expanding the existing mandatory inclusionary zoning law throughout the city and channeling some of the private development going on in the city towards the production of affordable units. A coalition of affordable housing advocates have recently developed a platform for affordable housing in Atlanta and have reminded the new mayor of her platform promises as they call for a comprehensive response to the issues of affordability, gentrification, and displacement in our city.9 In the early days of her administration, it is yet to be seen whether Mayor Bottoms' other priorities will override affordable housing concerns. With strong leadership and robust public support for affordable housing, Atlanta can pursue inclusive, affordable housing policies that protect our most vulnerable citizens from poor housing conditions, displacement, and high rent burdens; can fund the preservation and production of new affordable housing for low and moderate-income households; and can use and strengthen our existing housing policies to promote diverse, mixed-income neighborhoods.
---
Citation: Raymond, Elora. "Evicted in Atlanta." Atlanta Studies. February 06, 2018. https://doi.org/10.18737/atls20180206.
---
Notes