When they took the stage at last summer's Decatur Book Festival, authors Hannah Palmer and Mark Pendergrast didn't just discuss their prize-winning works on Atlanta. 
They also started a valuable conversation about what it will take to truly honor the city's public realm in the years ahead. That conversation continues at Atlanta Studies this week with a pair of essays that propose modest, but meaningful, changes to two vital pieces of the city's infrastructure: Hartsfield-Jackson International Airport and Quarry Lake, the centerpiece of the city's proposed Westside Park. Together, Palmer and Pendergrast suggest that Atlanta's future may depend on its ability to create public spaces that are both equitable and accessible. And they remind us all that this process begins next week, when Atlantans head to polling stations to elect the city's next mayor.
Below, in the first of these essays, Hannah Palmer makes the case for an observation deck at the airport. Palmer received the Judy Turner Prize at the 2017 Decatur Book Festival for her book, Flight Path: A Search for Roots Beneath the World's Busiest Airport. A companion essay by the prize's co-recipient, Mark Pendergrast, will appear on Friday.
-Edward Hatfield
---
A few weeks ago, a friend texted me this photo with no explanation. She was at a glassy rooftop lounge watching the sunset, peachy fuzz melting into clear indigo. But instead of a city skyline, the wide horizon was punctuated by the tailfins of aircraft and in the foreground stood Hartsfield-Jackson's monumental air traffic control tower, lit up in magenta, presumably for Breast Cancer Awareness month.
I zoomed in on the modern patio sofas arranged under red sail canopies. I imagined the breezy buzz of taxiing planes just below, and pictured her drinking vodka tonics at some elite Delta Sky Club. With a twinge of jealousy, I texted back, "Nice." But where is this place? I wondered. I live near the airport and I'm always trying to find places to take my kids to watch airplanes but had never seen this spot. I guess it was a VIP lounge at the International Terminal. However, I'm not sure because while I have long studied Hartsfield-Jackson, I'm not a frequent flyer, so I'm not a member of this club.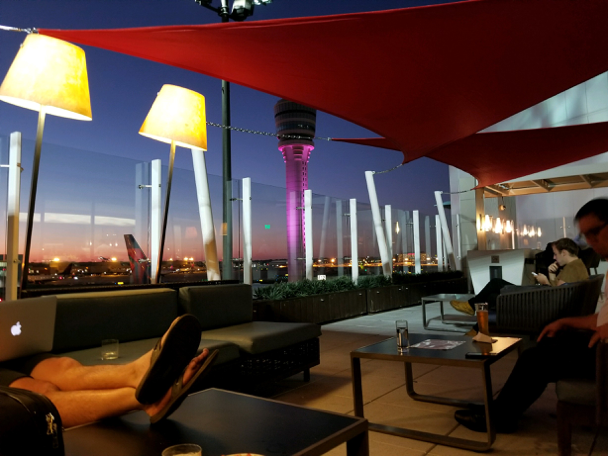 Despite my envy, I appreciated this insider glimpse. My friend knows I am fascinated by airport spaces, public and private, official and unofficial, pre-security and post. To me, it matters who gets to use them and how, because it illustrates who benefits from our public infrastructure investments and how. I'm fascinated by observation decks not because I'm an aviation geek, but because I believe the edges of our urban infrastructure tell us much about our collective values and desires as a city.
As someone who grew up along with the Atlanta Airport, I've seen more of the negative impacts of the airport accumulate on the southside – noise, pollution, traffic, a depressed real estate market — while the economic benefits — jobs, new development, the prestige of air travel – land elsewhere. Clearly somewhere people are enjoying the airport, but who are they, and how?
No Trespassing
Atlanta Magazine recently published a list of the "50 Best Things to Do in Atlanta" and at number 40 is "Plane-watch at the world's busiest airport." When I saw this, I cringed. Where, exactly, is one supposed to do that?
I've taken my kids to watch airplanes from ATL's cell phone parking lot, from second-story restaurants on Virginia Avenue in Hapeville, from the parking lot of a SunTrust Bank in College Park, and from the MARTA platform at the Airport station. As I've learned, if you pull over by Fire Station #24 by North Cargo, security trucks will roll by slowly, inspecting you for who knows what. All these ad hoc observation decks feel risky, though, like I'm trespassing. And none of them provide a very good view. Admittedly, I have not tried what Atlanta Magazine suggests: "For the best experience, and a clean view of the runways surrounding the concourses, head to the top of the domestic hourly parking garage." The parking decks of the Atlanta Airport are quite possibly the last place where I would choose to spend an evening with my family. And, of course, parking decks aren't free.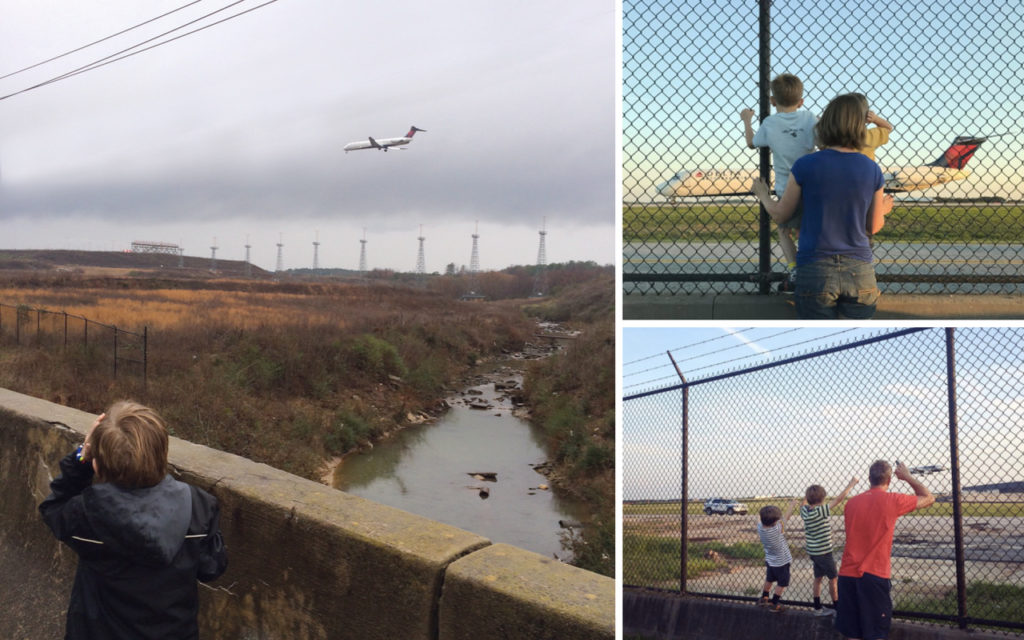 We need a public space for plane-spotting. Hartsfield-Jackson has no officially sanctioned observation deck, no place to marvel at what we have built. Without a good view, airplanes feel like they're invading; they roar in from nowhere and then disappear into the confusing maze of the airport. Moreover, the edges of the Atlanta airport are distinctly unwelcoming; an eleven-mile perimeter ringed by concrete bollards and barbed wire fences. It's the definition of what urban designer Ellen Dunham-Jones has identified as Atlanta's tendency towards "defensive design."1
What about Security?
Securing the perimeter of a major airport demands both creative and technical solutions, but it also requires a vision that includes people. Atlanta has never been short on vision when it comes to solving the technical challenges of growing this airport – we built a runway on top of I-285 – but what about the cultural challenges?
Underneath the enormous design challenges of airport security, Atlanta has a complicated history of balancing security and public spaces. While fears over racial mixing once dictated public life in Atlanta, today arguments against public parks, public transit, connected trails and greenways are framed in seemingly colorblind terms of crime and security. The possibility of an "undesirable element" using public amenities for nefarious purposes has stunted the growth of every transit project from MARTA to the proposed Douglas County transit system and limited the vision of recent developed park spaces like the South Fork Trail Network.2 The result is an urban form that expresses our fear of crime, terrorism, litigation, you name it, and our desire to be alone in gated communities and bubbles of luxury. By withholding public space and mobility from criminals we also withhold it from seniors, teenagers, disabled people, and all of us, really.
Now, though, we are all witnessing a renaissance of the public realm in Atlanta. Our city, having fully withdrawn to our private subdivisions, private schools, and self-contained automobiles in the era of racial integration, has long been allergic to public spaces. But for a new generation of Atlantans, myself included, the Beltline has demonstrated that the benefits of grand, connected public spaces outweigh the perceived risks. As a consequence, the off-limits, contested, and throwaway spaces that litter our city now look like fair game as potential community spaces.
Whenever I get a glimpse of Hartsfield-Jackson, I see this potential. I find it both soothing and impressive to watch the relentless precision of all those well-choreographed takeoffs and landings, one every few seconds. And at 4,700 acres, the airport delivers the kind of sweeping vista that Atlanta sorely lacks. We don't have waterfront views, or any kind of vantage point for the city – what we do have is a massive airport. It's the economic engine and raison d'etre of Atlanta, though not everyone gets to enjoy it.
What would this look like in Atlanta?
There used to be observation decks and public spaces at Atlanta Municipal Airport. The curious public was not so weary of air travel back then; airports did not assume that the unticketed masses were terrorists. Moreover, observation decks satisfied an early PR need of the burgeoning aviation industry, and along the way, became really interesting communal spaces that inspired a generation of pilots, flight attendants, and air traffic controllers. Anytime I talk to a pilot, they have an origin story about spending time at an observation deck as a child, watching the airplanes for hours. Observation decks also served as a friendly link between the community and the airports themselves.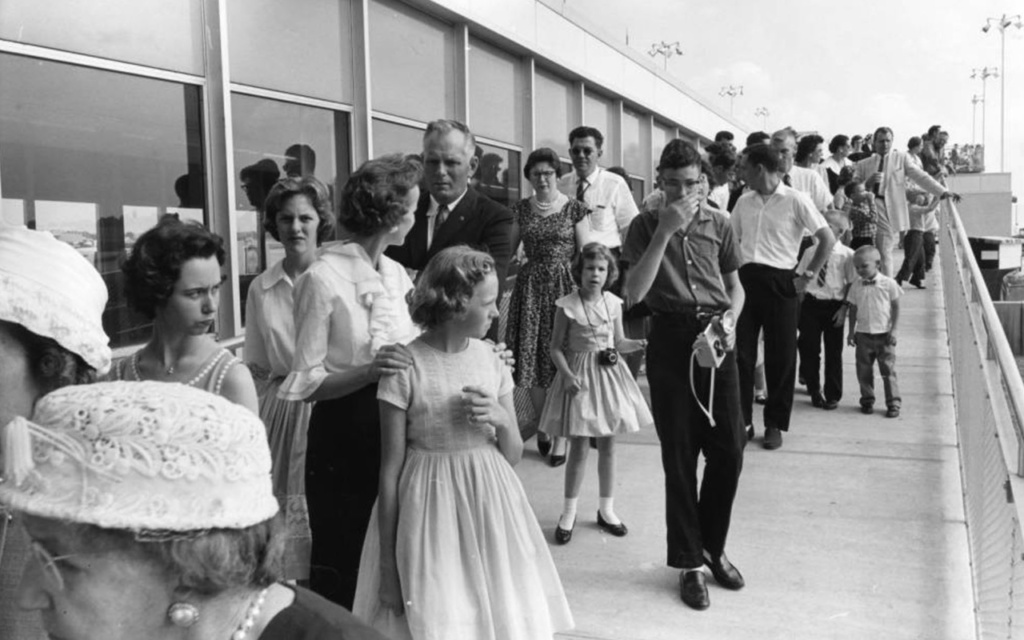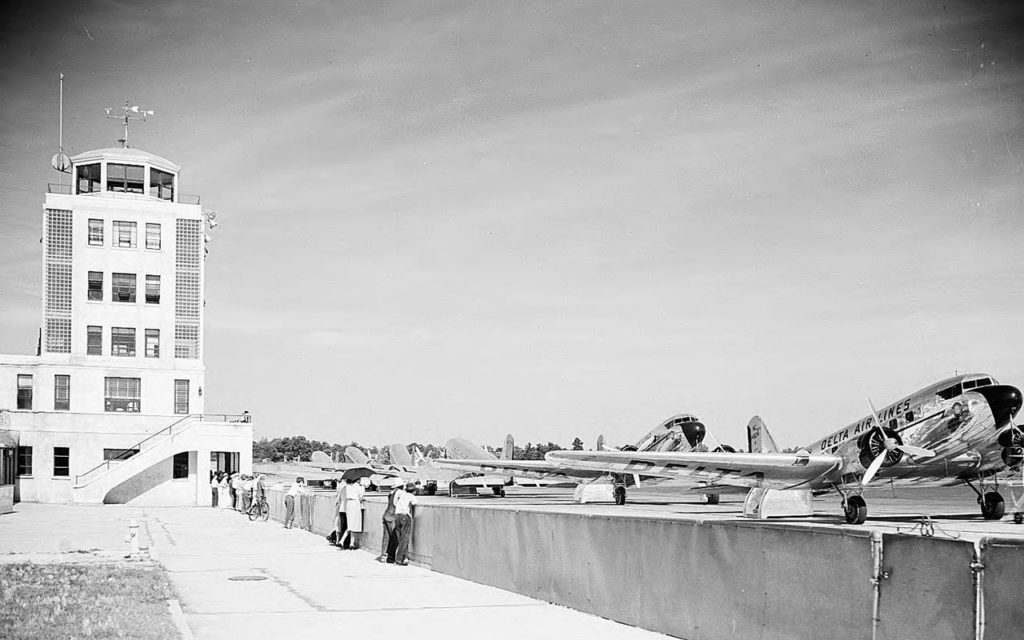 Today, this interface between the airport and its surrounding communities is sorely lacking. The airport area in Atlanta resembles a resort economy – one that depends on cheap local labor, but doesn't leak economic benefits back into the community. Could welcoming public spaces help to bridge that gap, giving a sense of ownership and pride back to those communities? Could they restore some of the sense of grandeur, fun, and friendliness to the experience of air travel that has been sapped by the seemingly constant customer service fiascos of today's major airlines?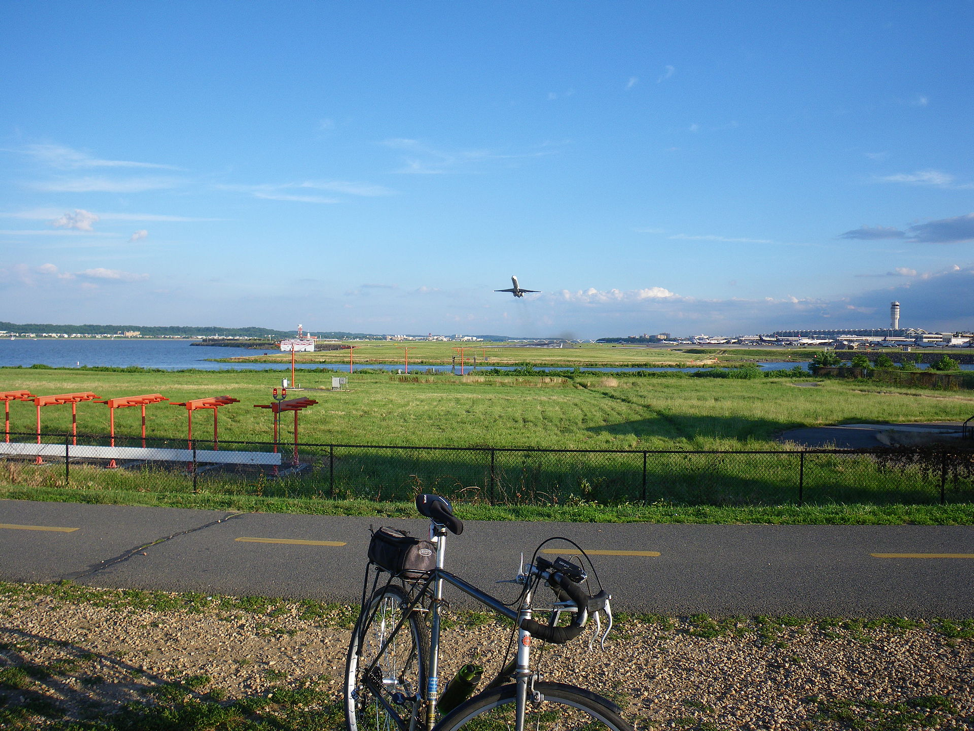 A modern observation deck would be a great place for families and dates, to meet people on their way to or from the airport, to dine, stroll, shop, and people-watch. It would be an attraction to the millions of passengers who have layovers at ATL and want to step outside of the machine and experience our city. Picture a boardwalk, or promenade. Something as grand as the airport itself. Picture the Beltline, and its re-orienting effect on businesses nearby. Or just look at the grand, public observation decks at Frankfurt International, Tokyo Narita International, or Zürich Kloten Airport.
Indeed, plenty of major airports still have still observation decks, and not just overseas. San Francisco International Airport is building a new observation decks that's entirely open to the public. At Dallas-Fort Worth and Raleigh-Durham International Airport there are parks, plazas, and playgrounds that serve as public observation areas. You can watch airplanes while biking to Boston Logan Airport via the East Boston Greenway or the Mount Vernon Trail by Ronald Reagan Washington National Airport.
We might ask, why do these airports do it? Why invest in an amenity that does not directly move passengers, or benefit airlines? Why build a playground next to the runways of Peachtree-DeKalb Airport? The answer is the same reason great cities invest in public spaces – to make room for the life of the community. Airports are owned by municipalities, and those cities consider them public infrastructure that can and should benefit the locals.
First Class Views
Plane-watching is making a comeback in Atlanta, but it's not via your grandfather's observation deck. Rather, it's via exclusive, private spaces for VIP travelers like the one my friend texted me an image from. In fact, the same day as my friend's SkyClub text, I spotted the following headline in Eater Atlanta: "Forthcoming Porsche Hotel Will Include Mediterranean Restaurant, Rooftop Lounge."
The four-star Solis Hotel is one of several new high-end hotels in development around the airport, all boasting lavish views of the runways. It sits next to the Porsche Experience Center, two striking aerodynamic structures that look like colossal spacecraft crouched on the northeastern edge of the airport, offering a seamless VIP experience for Porsche's clientele and guests. While I have no problem with rooftop lounges and perks for business travelers, absent any effort to create similar public spaces, such amenities only further amplify the class divide on the southside. Increasingly, our "waterfront" opportunity at the airport is looking more like a private beach.
I live in East Point, and like most of my neighbors near the airport, I can't vote for Atlanta's next mayor. But whoever she is, she will wield significant power over the quality of life for residents on the southside. I would like to challenge the next mayor of Atlanta to make public spaces her legacy. She should articulate a vision for the airport that reaches beyond that "world's busiest" and "most efficient" title to make Hartsfield-Jackson Atlanta International Airport a beloved civic institution. And she can start by issuing a call for ideas for public viewing areas near the airport, not just as amenity worthy of a world-class airport, but as a gesture of trust and welcome to the people that live alongside its runways.
---
Citation: Palmer, Hannah. "Recreational Infrastructure: Who Gets to Enjoy the World's Busiest Airport?." Atlanta Studies. November 30, 2017. https://doi.org/10.18737/atls20171130.
---
Notes
Ellen Dunham-Jones, "What's Next ATL," talk at the ARC State of the Region Breakfast, Atlanta, Georgia, November 3, 2017.[↩]
As Ed Hatfield notes in reflecting on the defeat of a 2012 referendum to fund MARTA expansion, "In Atlanta and elsewhere, public transportation has been saddled with racial and class anxieties that are not easily overcome, a fact best illustrated by the forty-two percent of metropolitan poll respondents who still believe that crime and transit go hand in hand." See Edward Hatfield, "A Well-Tied Knot: Atlanta's Mobility Crisis and the 2012 T-SPLOST Debate," Southern Spaces, April 29, 2013, https://southernspaces.org/2013/well-tied-knot-atlantas-mobility-crisis-and-2012-t-splost-debate. On how such rhetoric has impacted the proposed Douglas County transit system see Ross Terrell, "Opposition to Proposed Douglas County Transit System Continues to Grow," WABE, November 6, 2017, https://www.wabe.org/opposition-proposed-douglas-county-transit-system-continues-grow/. For an example of this strategy deployed to stunt the South Fork Trail Network, see Charles Bayless, "Factual Analysis of the South Fork Conservancy Proposal," June 24, 2012, https://www.slideshare.net/ThroughtheMagicDoor/factual-analysis-of-the-south-fork-conservancy-proposal.[↩]