When it comes to archives, Atlanta is a city with an embarrassment of riches.
We can boast not only significant collections, but also a wide variety of collecting institutions, from the federal to the academic to the community based, unusual for an American city. And Atlanta is an even richer city for archivists. Our professional networks are strong, and Atlanta archivists know each other, talk to each other, and share our successes and challenges.
While every institution is unique, most of the city's archives collect records that document the lives and culture of African Americans; as is only fitting for a city known as the "Black Mecca." The lines between our collections are often blurred and documentation is interrelated. For those of us working in institutions that actively collect materials by and about African Americans, it has become increasingly clear that there is a need for a more formal professional network to better understand our collections, explore new opportunities for collaboration, and reach out to the communities we collect from and serve.
In order to address this need, the Atlanta Black Archives Alliance (ABAA) was founded in early 2017 by a group of Atlanta-area archivists actively working with historical materials documenting African Americans.1Our goal is to share our city's unique and valuable resources on black history and culture to as wide an audience as possible. Our mission is two-fold: to collaborate on better ways to serve researchers (academic and personal) using the records of African Americans, and to encourage community members to engage with and celebrate Atlanta's black history.
The current ABAA membership is made up of representatives from the Atlanta History Center, the Atlanta University Center, the Atlanta-Fulton County Public Library, Emory University, the Georgia Public Library Service, Georgia State University, Kennesaw State University, and Spelman College. We meet monthly (the last Wednesday of the month) at one of our member institutions for presentations, discussion, and the planning of our activities. We plan to hold open public meetings soon.
There is a great diversity in the backgrounds of our members. Some of us are focused on teaching with archives, others on preservation, some on genealogy, and still others travel the region collecting records and creating oral histories. Our respective holdings are diverse as well, and include the personal papers of prominent Atlanta leaders, records of Atlanta businesses, universities and trade/professional groups, and fraternal and sororal organizations. Major themes we document are religion, civil rights movements (of many kinds), LGBTQ culture, education, print culture, and arts and literature.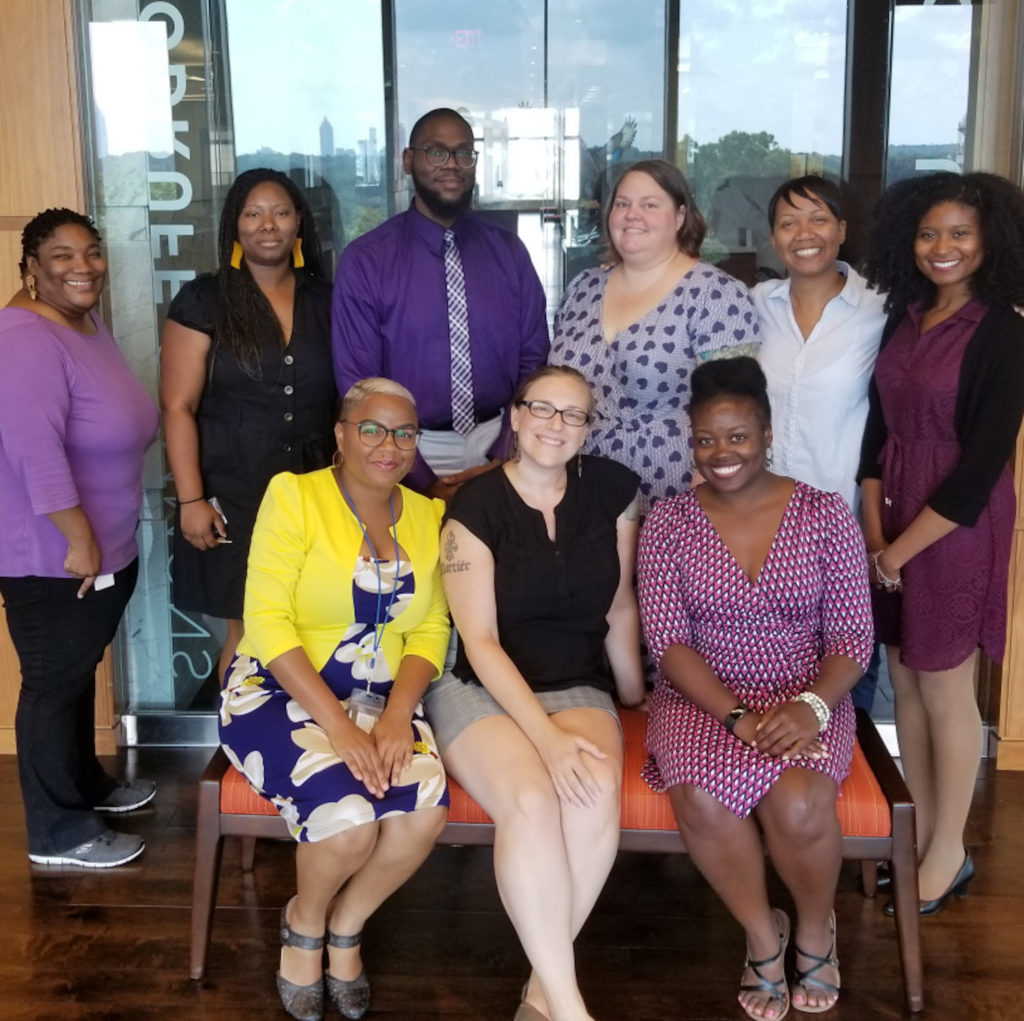 A special area of interest for us is to make stronger connections with those teaching about Atlanta, at both the university and K-12 levels. Each of our members is experienced in working with faculty to identify materials, design assignments, and structure syllabi to enhance learning through the use of primary sources. Additionally, we plan to offer community based workshops about the preservation of personal materials, as well as events designed to engage new users of archives.
We were drawn together as a group due to a collective desire to strengthen the ties between Atlanta's archival institutions, collections, and archivists and the communities we serve. Every year, thousands of researchers travel to the "Black Mecca" to explore Atlanta's unique history, and we hope to better connect those researchers to the resources they need to tell Atlanta's story, while also connecting Atlantans to the stories that reveal and celebrate our city's rich black history.
You can find out more about us online at https://atlantabaa.wordpress.com or contact us at atlantablackarchives@gmail.com.
---
Citation: Chartier, Courtney. "Introducing the Atlanta Black Archives Alliance." Atlanta Studies. August 17, 2017. https://doi.org/10.18737/atls20170817.
---
Notes
Though ABAA has just formalized this year, its seeds were sown in the 1990s by another group of archivists eager to collaborate on projects related to the preservation and promotion of African American historical resources. This earlier group included representatives from Spelman College, Atlanta University Center and Emory University.[↩]